Corvette C7 Under Hood Dress Up
---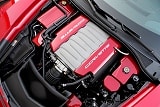 2014-2018 C7 Corvette Stingray Under Hood Dress Up Parts
With the help of Southern Car Parts you will be able to bring your C7 Corvette to an entirely different level on the show circuit. We provide many parts from American Car Craft's polished stainless steel covers, to custom body color painted covers, to the more sleek carbon fiber dress up covers. We even offer custom Airbrushed engine covers and hood liners for your C7 Corvette Stingray.
There are three major engine dress up categories: Custom Painted Engine Covers, Carbon Fiber Engine Covers and Polished Stainless Steel Engine Covers. We'll highlight those below:
Custom Painted Engine Covers for C7 Corvette:
Our painted engine covers first and foremost use the highest quality paint available in the industry Dupont.. This matters, make sure you ask your custom painted parts house what paint they use. Do not accept anything less than Dupont or PPG. That's what OEM uses and the only thing you should accept. Our custom painted parts come in a mix and match, piece by piece option. Or you can select the entire engine bay package, including painted Corvette fuel rail covers, Stingray alternator cover, C7 fuse box, surge tank covers and more. These will win shows for you.
Carbon Fiber C7 Corvette Engine Dress up Pieces:
Here you can select many different under the hood dress up items for your C7 Stingray. We offer a selection of pieces from the top manufacturers including APR Performance, LG Motorsports, Nowick Designs, Borla Carbon and more. You can be sure to get the top quality Corvette carbon fiber engine dress up goodies from Southern Car Parts.
Polished Stainless Steel Engine Covers for C7 Corvette Stingray:
American Car Craft. We only carry ACC polished stainless steel C7 Corvette engine bay dress up pieces. Why? This is simple. They offer the best quality pieces, unique designs and the pieces they offer fit like a glove and often times look OEM. Your C7 Corvette deserves the best and with ACC stainless steel accessories from SCP you can be sure you are getting the very best.
Corvette C7 Under Hood Dress Up
Minimal Price: $ 15.26 15.26