C7 Corvette Engine Cap Sets
---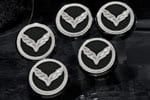 2014-2018 C7 Corvette Custom Engine Caps
Billet Engine Caps and Painted Engine Caps
When it comes to customizing your C7 Corvette and the under hood area, your options are pretty endless. Most guys will do a nice set of covers for various accessories like fuel rail covers or plenum cover. However they will stop there and leave those ugly, factory GM caps in place. In our opinion this is just terrible. It's like running 26 miles of a marathon and stopping short of the finish line.
Southern Car Parts has a few great options to help you dress up your fluid caps. First, we have the true billet aluminum caps. These are exact fit caps and come in all C7 Corvette painted body colors, chrome and black chrome. If you aren't into the billet or painted look then we do have carbon fiber options. These carbon fiber C7 engine caps come with various logos like the CORVETTE text, C7 Flags and C7 Stingray logo. With great manufacturers like RPI Designs and American Car Craft you can be sure you are getting the best quality caps on the market, made in the USA and backed with a warranty.
If you are unsure which C7 Corvette Stingray engine caps are right for you, just give us a call and we'll help steer you in the right direction.
C7 Corvette Engine Cap Sets
Minimal Price: $ 54.95 54.95