C7 Corvette Carbon Fiber Engine
---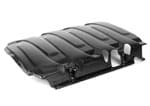 C7 Corvette Carbon Fiber Engine Covers & Parts
If you look in your Corvette's engine bay and don't see the shock you want anymore, then maybe it's time for a change. C7 Corvette carbon fiber engine parts can be found right here on our website at Southern Car Parts. We offer you a wide range of the coolest carbon fiber alternatives so your engine and engine bay can amaze at car shows.
We offer C7 Corvette carbon fiber fuel rail covers, Plenum covers, throttle body covers, lower coil covers, fuse box covers and more. If it can be covered up with plastic or stainless steel it can be covered up with carbon fiber. And since carbon fiber is such a complicated material, Southern Car Parts only deals with the most respected companies in the industry. Some of the brands we sell for our C7 Corvette carbon fiber parts include LG Motorsports and APR Performance.
Real C7 Corvette Carbon Fiber Engine Covers and Parts
All of our C7 Corvette carbon fiber engine covers and parts come standard as 100 percent real authentic carbon fiber that only uses the most common 2x2 twill pattern for the strongest possible products. This not only makes the products we sell the best looking but the most durable C7 Corvette carbon fiber parts you can buy. By using these legitimate types of carbon fiber products, you will find that our products give you all of the benefits that true carbon fiber should. The products we sell have a lightweight to durability ratio that steel and aluminum can't come close to contending with.
We want to make sure all of our C7 Corvette carbon fiber engine bay covers get to you in the best of finishes, so we have a process. All of our products get three complete sprays of Dupont clear coat to help give them that deep gloss shine. After that, we then find all of the imperfection and dust that is left behind and sand them out. Once we're sure everything is perfect, we take our final step and buff the product out to a perfect glass-like finish so that everything will look brand new and awesome.
If you're thinking about decking out your whole engine bay in carbon fiber, we have an LG Motorsports kit that can really help you deck out your engine bay. The kit comes complete with C7 Corvette carbon fiber covers that completes the carbon fiber look for pretty much the whole engine. Although there are still many other accessories in the engine bay that can be decked out in carbon fiber, this is a great start to accomplishing your goal.
If you're ready to make that move to engine bay carbon fiber glamor, browse our website to see what your engine bay can look like. Most all of our C7 Corvette carbon fiber parts are direct stock replacements and need absolutely no modification for installation. If you have any questions about any of the parts you see or don't see, give us a call, we love to help.
C7 Corvette Carbon Fiber Engine
Minimal Price: $ 198.99 198.99