Corvette C7 Wheels
---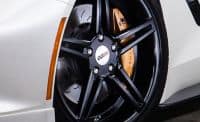 2014 - 2015 C7 Corvette Wheels Reproduction Packages
No one buys a Corvette to blend in, but unfortunately, doing too much custom work can hurt the value or your Corvette. But there is one customization that won't hurt the value of your Corvette and makes one of the biggest positive impacts on the way your sports car looks. C7 Corvette wheels and tires can change the whole stance and vibe to your Corvette's allure. Here at Southern Car Parts, we are your one-stop shop for the newest and coolest looking C7 Corvette wheels on the planet.
We only deal with the best manufacturers in the business, names like Cray Hawk wheels, LG Motorsports, Factory Reproductions and more. All our reproduction wheels are direct bolt-ups and need nothing to be replaced; they will even work with your Tire Pressure Monitor Sensors (TPMS). So maybe you just want to upgrade the stock C7 Corvette wheels you have to a set of chrome Corvette Z06 Reproduction Wheels, that's not a problem, and we make it very easy for you to make the change. In fact, all our wheels come with correct or custom center caps, lug nuts, and lock kits.
C7 Corvette Wheel Packages Options
If you're trying to go in a different direction and you want to make a change to something more custom, we have plenty of C7 aftermarket wheels to choose from. Choose from colors like Matte Black, Gloss Black, Silver, Comp Grey and more. You can even go really custom and choose a larger or wider size wheel. Although going with a set of C7 Corvette custom wheels that are larger in size will probably change the installation process from a bolt-off - bolt-on replacement to something a little more difficult, sometimes you have to dare to be different.
Don't forget to check out our wheel accessories. Maybe you don't really want to make a big wheel change, but your C7 Corvette Center Caps or C7 Corvette Valve Stems need a refresh, we can help you with some of those small details. Whether small or big details, everything is big when it comes to your C7 Corvette wheels. There are no other parts on your vehicle that makes the biggest difference when it comes to appearance. They can make or break the look of your Corvette.
The best thing about changing over to a set of C7 Corvette custom wheels is you can always save the stock ones and change them over whenever you need to. And we don't think you will find any buyer disappointed that they will be getting two sets of rims with their Corvette purchase, especially if one of those sets are a set of originally rims that are still in good shape.
Give us a call here at Southern Car Parts. We can discuss which set of C7 aftermarket wheels would be the best fit for your Corvette. We know it's a tough choice, so our wheel experts want to make sure you are completely happy with your purchase.
Minimal Price: $ 5.99 5.99