Corvette C7 Wheels
---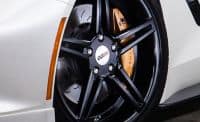 C7 Corvette Reproduction Wheels
2014-2018 C7 Corvette Reproduction Wheels Packages
If you're in the market for Corvette wheels, Southern Car Parts has exactly what you're looking for. From sleek wheels for the Z51 to streamlined Z06 C7 Corvette replica wheels, SCP's variety and value is hard to beat. Many of our 7th gen wheel accessories and C7 Corvette replica wheels are made for effortless installation, as they'll accommodate your stock existing tire pressure monitoring system (TPMS). Plus, our reproduction C7 Corvette wheels come in black, chrome and other finishes for a personalized accent.
Almost instantly, every car enthusiast wants to get the stock wheels off their car and replace them to help differentiate their vehicle from someone else's. It's a car guy thing. And if you own a Corvette, you might feel that very urge even more so. Here at Southern Car Parts, we encourage you to indulge in that urge and browse through our inventory of C7 Corvette wheels to find the style that best fits your desired look.
Browse our entire C7 Corvette replica wheels selection below. From traditional favorites to popular new products, you'll find the best replica C7 Corvette wheels right here at SCP. Plus, many of our C7 Corvette ZR1 replica wheels are available in a variety of sizes and wheel packages, so you'll enjoy a custom fit for your next DIY Corvette project.
Replica C7 Corvette Wheels & More – Check out our Entire Assortment Today!
Our C7 Corvette reproduction wheel sets include everything you need for a successful installation, from center caps (color coordinated to match your C7 Corvette replica wheels), lock kits, lug nuts and much more. SCP specializes in high-quality Corvette reproduction components, and our wheels store is no exception! Check out our entire inventory today – you won't be disappointed.
Southern Car Parts is known as the C7 Corvette Z06 replica wheels superstore, and we have other great accessories for your C7 Corvette. If you have any questions about our C7 Corvette replica wheels, general Corvette reproduction accessories or other replica C7 Corvette wheels, our Chevy parts experts are here to help. Just give us a call at 888-631-1433. And if you can't find particular C7 Corvette replica wheels or C7 Corvette ZR1 replica wheels, we'll help you find them! Thanks for stopping by the SCP garage, your favorite C7 Corvette reproduction wheels store!
Minimal Price: $ 5.99 5.99