Corvette C7 Carbon Fiber
---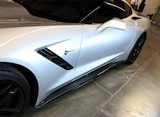 C7 Corvette Carbon Fiber Parts & Style
Here at Southern Car Parts, we understand the want and the need to keep your Corvette as original as possible, but we also understand that you probably didn't purchase a Corvette just to blend in. So we offer a very appealing set of carbon fiber Corvette parts that can help you customize your Vette without the need for heavy modifications that could hurt its value.
For more than 50 years, Corvette has been the leader in American sports car styling. Their sleek curves, low profile stance and their cool colors are what make them so recognizable. On the road and in daily traffic, they stand out, you will be noticed, but at a car event or even worse at a Corvette event, standing out will prove to be a lot harder. With our C7 Corvette carbon fiber parts can help give your Corvette a unique car show and race car look that other Corvettes won't have. Carbon fiber is the leading material used in motorsports, marine water sports, biking, aerospace and even NASA. Lighter and more durable than both steel and aluminum, the material will give your Corvette a strong presence of authority wherever you take it.
Top C7 Corvette Carbon Fiber Parts
A C7 Corvette Stingray Dry Carbon Fiber Hood could be just the part your Corvette needs for a few reasons. The first reason is the weight you will be cutting when you switch out the heavier stock hood will help you cut time off of your time slips at the track. The second reason is they look really cool. The matte carbon fiber finish goes good with all Corvette colors, giving you an edge at Corvette and car show competitions. The third reason a carbon fiber Corvette hood is well worth the effort is that they use the same hardware as your stock hood. This means you can take your stock hood and store it in a safe place, and whenever you want to put it back on, it will bolt right back in place with no loss to your Corvettes stock value.
Our C7 Corvette Stainless Steel and Carbon Fiber Front Splitter and C7 Corvette Stingray Carbon Fiber Rear Spoiler parts offer much the same types of benefits. They can both be great performers at the track, offering plenty of traction and stability at high speeds and during sharp cornering, at the same time, they can really make a statement in the styling department. Depending on how bold you go, will depend on how many heads you turn as you drive by.
We have C7 Corvette carbon fiber parts that can be placed all around your Corvette's exterior. Rear diffuser, hood louver inserts, front wheel trim modelings, side view mirror housing and many other carbon fiber parts to make upgrading your Corvette fun. We even have carbon fiber Corvette parts for under your hood. A carbon fiber plenum cover with fuel rails and a radiator shroud duct is a great way to start a carbon fiber look that all of your Corvette buddies will be jealous of. Carbon fiber also offers another benefit under the hood. Carbon fiber parts will run a lot cooler than aftermarket shiny stainless steel or chrome pieces and are easier to keep clean.
If you're looking for that special way to customize your Corvette, then you have come to the right place. We only deal with the best brands in the business. APR Performance, LG Motorsports, Anderson Composites and more all fill our inventory with the highest quality C7 Corvette carbon fiber parts on the market. Companies like APR also offer full body kits in a package to help you save money. If you want a rear spoiler that matches your front splitter and rockers perfectly, then this is a perfect solution for you. You can install all the Corvette carbon fiber parts all at once so you can look awesome all at once.
Take some time and check out all of our carbon fiber Corvette parts we have on sale. We update our inventory with the newest products on the market whenever we can, so check in with us here at Southern Car Parts often.
Best Selection of Corvette C7 Carbon Fiber Parts
Minimal Price: $ 54.95 54.95