Corvette C7 Carbon Fiber
---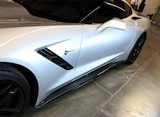 C7 Corvette Carbon Fiber Parts & Style
What better way to dress up your prized possession than with some C7 Corvette Carbon Fiber parts. These elegant and impressive performing parts can help your beauty stand out from the crowd. Our C7 Corvette Carbon Fiber Hood is one of the biggest pieces we sell. This won't only make a bold statement in looks, but if you're looking to slash a few tenths of a second off your elapsed time from your time slips at the track, this is a perfect way to do it.

Carbon Fiber is not only lighter and stronger than both metal and aluminum, but it also has a texture and look to it that can't be duplicated by any other material. So if you are going for a lighter C7 Corvette ZO6, while achieving unbeatable style and strength, the Carbon Fiber parts selection you are looking for is here with us at Southern Car Parts.com. From our C7 Corvette Carbon Fiber Rear Hatch/Trunk to our C7 Corvette Carbon Fiber Spoiler, engine dressings, interior components and more, we have what it takes to make your Corvette look like an updated king of the road.
Best Selection of Corvette C7 Carbon Fiber Parts
Even our C7 Corvette Carbon Fiber side skirts go great with any color your Corvette came from the factory dressed in. Plus with Carbon Fiber's high resistant material and the ability to last much longer than metal or any other of its counterparts makes it a great way to ensure that the bottom parts of your low riding sports car can take on many years and miles of road and race wear and tear. This is also true with a Corvette C7 Carbon Fiber Hood. Since the front of your vehicle takes so much punishment while driving, some car enthusiast put bras on the front end of their cars. The only problem with them is they're unpleasant to look at because they don't match and if they are left on for too long, when taken off there will be an obvious color difference from the parts of the car that were covered and the parts that were opposed to the elements. A C7 Corvette Carbon Fiber Hood not only looks great with any color, but also does not fade and repels rocks, bugs, and bad weather like a force field.
Southern Car Parts.com also carries more than just hoods, skid skirts, and spoilers when it comes to exterior Carbon Fiber styling. You can go all out with our C7 Corvette Carbon Fiber parts, or you can just sprinkle a dash of them around the exterior for a subtle touch. Parts like our C7 Corvette Carbon Fiber front wheel modelings or our C7 Corvette Carbon Fiber Hood Vents both make a great way to insert a little Carbon Fiber fun while still making sure the original Corvette color still pops.
Whichever way you decide to go - Carbon Fiber parts to the max or just a little bit for some style and uniqueness - our Southern Car Parts.com C7 Corvette Carbon Fiber parts selection will meet and exceed your expectations. From the most well-known brands in the business to the best prices on the Internet, we can help you make your Corvette look awesome.
Minimal Price: $ 54.95 54.95