Corvette C7 Brakes
---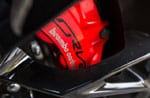 C7 Corvette Brakes, Brake Pads, Rotors, and More
Finding a way to stop your Corvette successfully is always something every car person worries about. We put so much time & money into our pride and joys, we need to ensure we don't have any mishaps. If you're into competitive driving, the worry of making sure your C7 brakes are up to par goes way up. Here at Southern Car Parts, we offer a wide selection of replacement C7 Corvette brake pads, rotors and other stock brake components. If you have no reason to replace your brakes, we also offer you a whole line of brake upgrades and dress up kits so you can maintain your front and rear C7 Corvette brakes.
If you're just looking to do some cosmetic upgrades to boost the look of your stock Corvette callipers, we have a perfect set of calliper covers for your C7 Z06 brakes. These can really help set the look of any Corvette off by choosing colors that either match the base color or trim of your car. Most of the stock Corvette wheels have spokes that are really thin, which means these components that visible even while driving at high speeds. Our calliper cover C7 Corvette brake kits come powder coated with your choice of colors including red, yellow and black. You will also find that along with the color choices you will get your choice of Corvette logos. You can have your C7 Corvette front brakes labeled with Z51, Stingray, Corvette and other logos that represent the Corvette you drive.
Better Stopping Power with Our C7 Corvette Brakes
Braking efficiency with your C7 Corvette brake rotors and pads is the most important reason for brake upgrades. Our C7 Corvette Z06 brakes are designed to be a direct replacement to your stock brakes whether you drive a Stingray or a Grand Sport. They're even designed to work seamlessly with your master cylinder so no other replacement parts will have to be installed to compensate for the upgrade. Also, since they're a stock version of a Corvette brake system, you will find it very convenient that even if you're still running a stock wheel, the C7 Z06 brakes will fit right behind them with no need for shims or wheel replacement.
For your higher performance upgrades, we have a set of Hawk Ceramic C7 brake pads that are designed to offer you better stopping power, noise and vibration. You can also accomplish better stopping power by purchasing a set of our 4000-Series DBA drilled and slotted rotors. Their Thermal Stability Profiling (TPS) rotor design for your C7 Z06 brakes are made to withstand heat that can only be achieved by high energy racing. This way you'll have plenty of room for fun with no worries.
If you're ready for a replacement or upgrade to your C7 Corvette rear brakes, Southern Car Parts is the best place to shop. Not only do we have the best brands and variety, but we are also here to help. It can be confusing picking out the best C7 Corvette brakes for your situation, so if you need any help, give us a call at 1-888-631-1433 anytime.
Minimal Price: $ 84.82 84.82