Corvette C7 Interior Parts
---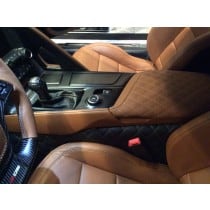 2014-2018 C7 Corvette Interior Parts, Accessories & Mods Finding the Perfect C7 Corvette Interior Parts
It's simple: when you're a car enthusiast, making your car unique is the name of the game. When you're a Corvette enthusiast, you can run into a problem since you may not want to make it so unique that your Vette starts losing its value. We understand that here at Southern Car Parts. It is why all of our C7 Corvette interior parts are designed to snap in place without ruining the original vehicle. Even if some original parts have to be removed when you customize your Vette, they can be snapped or screwed out of place, saved and replaced, or just sold with the vehicle at a later time. No permanent damage or loss of value will occur.
Some people find themselves improving the inside of their vehicles simply for looks, and other people do it for the convenience it can offer. We know our C7 Corvette interior accessories can offer you the best of both worlds. Take our C7 Corvette seat covers and floor mats. They offer you great looks and protection at the same time. Or our 2014-2017 Corvette Speedster Tonneau inserts not only look awesome but also offer many benefits over the stock Tonneau inserts. One huge benefit is the reduced air turbulence since it leads to a better maintained cabin temperature. Other C7 Corvette interior accessories like our ball shift knobs and custom leather D-Style steering wheel, of course, look pretty cool and can give you the feel you might be looking for when engaging in some competition driving at the same time. All in all, these are items that are easy installs and make great additions to the interior of your vehicle.
Our carbon fiber C7 Corvette interior mods are another great place to tackle when thinking about a practical and useful addition to your interior. Not only is carbon fiber a great look, it is also much more durable than plastic. It can stand up to miles and years of abuse that people tend to put on their vehicles. Most of our carbon fiber inserts are also easy snap in and snap out aftermarket C7 Corvette interior parts.
More C7 Corvette Interior Accessories to Choose From
LED interior lighting, Corvette decals, custom door sills, painted consoles and covers are all just some of the awesome things we have available to help you accessorize your Corvette. Feeling comfortable and looking cool in your favorite ride is what it's all about. We even carry things like aftermarket cup holders, a traveling pouch, and other accessories to help you combat some of Corvette's biggest storage flaws. These upgrade solutions give you secure places to put things you don't want to have on your person while driving.
To start your aftermarket upgrading today, take a look through our Southern Car Parts inventory to find the best C7 Corvette interior parts on the web. It's a great way to make your long drives and short trips to your car events even more fun and convenient.
Corvette C7 Interior Parts
Minimal Price: $ 7.99 7.99