C7 Corvette Interior Carbon Fiber Accy
---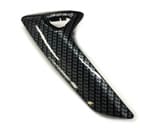 2014-2018 C7 CORVETTE INTERIOR CARBON FIBER PARTS & ACCESSORIES
At Southern Car Parts, customers are served only with the best in terms of quality. The pool of aftermarket goods is deep and it's easy to drown if you trust a supplier who makes false promises. The goods often provided by such sellers are cheap but not durable. This adversely affects the performance of your vehicle. So if you're looking for a modifier or replacement for your c7 Corvette, search no further. We have a huge collection of interior carbon fiber products such as steering wheel inserts, seat inserts, dash inserts, HUD covers and much more.
Talking about the interior carbon fibers, we have a huge collection of aftermarket goods from door panel trim to steering wheel bezels. Southern Car Parts has everythingto uplift the interiors of your car. These interior carbon fiber upgrades for your C7 Corvette, are the best in the market. Also, they are priced reasonably to suit all budget requirements and the quality is unbeatable. From hydrocarbon mirror control, vent trim plates, speaker trim bezels to steering wheel bezels and door handle bezel, we have it all. You can also find a side door panel insert in this category.
Southern Car Parts is a one-stop shop for car owners of muscle beasts like Camaros, Mustangs and sports lovers like Corvette owners. We have a variety of aftermarket products for all these cars that are priced at reasonable prices to suit your budget standards. We are also dedicated to provide our customers only with the best quality and prices, reason why we have a reputation in this business. Now enjoy various deals and free shipping on most of our products for a smooth shopping experience. We love to pamper our customers with simple treats and believe in 100% customer satisfaction. Please feel free to contact us in case of queries. Shop for the best! You can browse through our extensive range of carbon fibers here.
C7 Corvette Interior Carbon Fiber Accy
Minimal Price: $ 22.99 22.99