C7 Corvette Interior Stainless Parts
---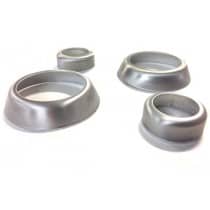 2014-2018 C7 Corvette Interior Stainless Steel Products
Southern Car Parts is a brand name which is widely trusted in the field of C7 Corvette aftermarket replacements. We have always served our customers with the finest in terms of quality. We boast of our latest range of replacement parts, modifiers and add-on accessories for Corvettes, Camaros, Challengers and many more cars. We are committed to provide our customers with products and services of the finest quality that are reasonably priced to suit all budget types. At the same time, we make sure that they don't have to compromise on quality and are served only with long-lasting products.
The C7 Corvette Stingray is a beautiful sports car that possesses the power of a muscle and to add more stars to its beauty, Southern Car Parts has a huge collection of aftermarket accessories and modifiers. These include a variety of interior parts as well; including painted parts, floor-mats, stainless parts, shifters and knobs, and many more.
Talking about the stainless steel interior parts, our dear car- the C7 Corvette looks incomplete without some pieces of steel interiors. It can make your car look more powerful and therefore, is a must-have. We have an extensive collection of replacements to fulfill all your needs of some extra customization with steel interiors. To make your C7 Corvette Stingray a star-car, we have various options of steel interior parts. These include chrome ignition switch, polished trunk lid trim kit, aluminum garage door opener, stainless steel door kick plates and panels, dash and radio knobs almost everything to fulfill your needs of steel interiors.
We also have kick plates with carbon inlay, brushed surround rings, rear view mirror trim ring bezels, dash knobs, speaker trim rings etc. to strengthen every corner of your Corvette with a bit of steel.So dress up the interiors of your Corvette with these stainless steel interiors. We've got everything to keep you covered so search no further. You can browse through our category of stainless steel interior parts here.
C7 Corvette Interior Stainless Parts
Minimal Price: $ 24.95 24.95