C7 Corvette Sill Plates & Guards
---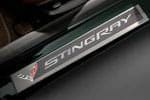 2014-2018 C7 Corvette Sill Plates and Door Guards
Southern Car Parts is a leading online store and we deal in aftermarket products. We strive to provide our customers with the best quality goods. We are proud owners of a huge collection of modifiers, replacement parts, and accessories for C7 Corvettes, Camaros, Challengers, Mustangs and many more cars. We are dedicated to provide our customers with high-quality products and services that are priced in an affordable manner to suit all budget sizes. With a low price, we also ensure that our goods don't lack behind in terms of quality and that our customers are served only with durable products that last long.
A C7 Corvette is a sports car with wow looks and also possesses the power of a muscle car. To add to its beauty, Southern Car Parts has come up with a huge collection of Corvette Stingray aftermarket accessories, replacements, and modifiers. These include almost everything to keep your car covered, from interior parts like sill plates, door guards, floor mats, shifters and knobs to battery tenders and chargers.
Talking about the sill plates and door guards, our favorite car- the C7 Corvette is incomplete without a custom-painted door guard. It can make your car look very unique and therefore, is a must-have. We have a huge selection of aftermarket goods to fulfill all your needs of door guards and sill plates. To make your C7 Corvette a true star, we have many options of customized painted door guards and sillplates. These include colored door kick guards, door sill plates, sill plates with illuminated logos, almost everything to fulfill your needs of door guarding. We also have kick plates with carbon inlay, sill protectors and door guards with letterings, clear door sill protector with logo etc. to keep the door of your Corvette customized and protected. All these parts can be painted to match the exact color of your Corvette. Take your Corvette to another level of glam and keep it protected with these door guards and sill plates. You can browse through our category of sill plates and guards here.
C7 Corvette Sill Plates & Guards
Minimal Price: $ 69.95 69.95