Corvette C7 Exterior Parts
---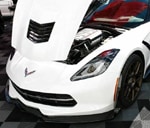 C7 Corvette Exterior Accessories, Parts & Trim
Stunning C7 Corvette Exterior Accessories
Every Corvette already looks great from the day it rolls off the showroom floor and into our lives. But sometimes adding your own little touches to your Corvette can make it feel more personalized like the Corvette was made just for you. We can help you with that personalized look you might be looking for here at Southern Car Parts with our packed inventory of aftermarket C7 Corvette exterior parts.
Our inventory offers every Corvette owner a chance to add a little something, or a lot, to their Corvette so they can stand out at car shows, car cruises or race events. If you're trying to keep your stock Corvette so the market value won't drop in the years to come, Southern Car Parts can help. We sell plenty of C7 Corvette exterior accessories that can customize your Corvette without hurting its stock value. Products like our C7 Corvette carbon fiber accessories are a great way to add a little bit of boldness to your Corvette without lowering it's worth.
Grille inserts, brake calipers, specialized badges, underhood accessories and more are all just great ways to add little touches to your Corvette without making any intrusive changes to its original look. Even C7 Corvette body parts like aftermarket hoods can really add to your Corvettes appearance. And as long as you keep the stock hood in a safe place, the value of your Corvette will never be affected. C7 Corvette trim is another great portion of your Corvette you can look to for appearance upgrades that won't hurt its value. Mirror trim rings and colored weather stripping are just small touches that can make a big difference.
Of course, you can always go big with your C7 Corvette exterior parts upgrades. Big racing wings like the carbon fiber APR Performance GTC 500 can make a huge statement when it comes to the attitude your Corvette presents. Add that in with side skirts and an aggressive front splitter and people will think your Corvette just came from a Le Mans race event. C7 Corvette carbon fiber parts also help with the sports car racing look. Carbon fiber is some of the most widely used materials in the professional racing circuits and can really help give your Corvette an edge at car shows and car cruise events.
So if you're starting to feel like your Corvette blends in just a little too much, then maybe it's time to start thinking about upgrading to some aftermarket C7 Corvette exterior parts. It doesn't take much to make a big change to the appearance of your Corvette. Here at Southern Car Parts, we keep the most up-to-date inventory of C7 Corvette exterior accessories. Take some time and shop with else, we guarantee you'll be satisfied.
Corvette C7 Exterior Parts
Minimal Price: $ 8.99 8.99