C7 Corvette Bras and Masks
---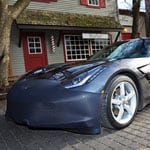 C7 Corvette Bras, Masks and Front-end Covers
Corvettes are the number one American-made cars that people buy for investments. Even if you buy one with the intent to have a blast, you probably still want to take care of your investment. Here at Southern Car Parts, we want you to protect your beloved vehicle, and we can help you do just that with our line of C7 Corvette bras and mask.
Protecting the front end of our prized possession with our line C7 Corvette bras is probably the smartest thing you can do. Regardless of how much you drive your Corvette the risk of having your Corvette chipped or scratched is always there. Even the threat of bad weather can wreak havoc on the front end of your vehicle. A C7 Corvette nose mask can help stop the horrible run off of mud and nastiness cars in front of you create when the weather is less than desirable. They can even help if the unfortunate happens and you find yourself driving in a storm that produces light hail. Of course, no one wants to drive their Corvette in bad weather, but who can tell Mother Nature what to do?
Protection with C7 Corvette Bras & Masks
We've all seen the ugly black bras from the '80s and '90s that probably forced people to ignore the protection that their Corvettes needed. But here at Southern Car Parts, we offer you a solution that gives you no reason to ignore your C7 Corvette car bra needs. We offer bras and C7 Corvette masks that will match your Corvette's color. With protected backings and outer lightweight material that is safe on paint, there is no need to use the excuse that they are an eyesore. You also can't use the excuse of them being a pain to install. With simple strap and snap installation, you can install our C7 Corvette bras and masks in minutes. This is great for the car show goer. Corvette enthusiast can drive to the car show with their C7 Corvette front end covers on, show up, and within minutes you can have them taken off, folded up and stored away. When the car show is over and it's time to go home, reinstalling it takes the same amount of time - just a few minutes.
The nice thing about purchasing C7 Corvette bras from us is we deal with companies like Lingerie and NoviStretch, and they make bras and masks that are fitted specifically for Corvettes. You won't have to worry about stretching it, pulling it, customizing it and just dealing with a bra that doesn't fit properly like a generic brand.
Protection of your vehicle investment is a very smart thing to do, especially when you're talking about a Corvette. Our Southern Car Parts inventory is the perfect place to find the C7 Corvette bras that match the color of your car perfectly. With easy installations and a perfect fit, there is no reason you should have an excuse for not protecting your ride.
C7 Corvette Bras and Masks
Minimal Price: $ 14.95 14.95