C7 Corvette Letter Sets & Emblem
---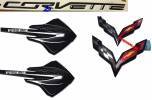 C7 Corvette Emblems, Decals, Flags & Lettering
Details That Matter with Our C7 Corvette Emblems and Badges
Every car enthusiast likes to add their own little touches to their car. Southern Car Parts allows you to make subtle touches and upgrades to the appearance of your Corvette giving it that extra edge at car shows, car cruises and Corvette events. C7 Corvette flag emblems and C7 Corvette lettering are great ways to add a little extra zing to your sports car without making any drastic changes.
You Can't Go Wrong With Custom C7 Corvette Decals
Bigger upgrades that require you to add screw holes or clamps and glue may not be the greatest idea for a Corvette owner who wants to sell his Vette as an all original one day. But badges like C7 Corvette Stingray decals will not depreciate your car nor lower its Blue Book Value. In fact, adding decals might be the greatest and safest way to have fun customizing your Corvette without the worry of anything becoming a problem down the line. Simple upgrades like our blacked out C7 Corvette emblems kit can really give your Vette a unique look.
Racing C7 Corvette decals are another great way to go. Fender Hashmarks have been a staple on Corvettes since the 60s. That's when Corvettes started winning road course circuits across the country. These C7 Corvette racing decals add a very distinctive look to your car and look great when they match the rest of your off-color trim. Other C7 Corvette decals to help break up a paint job and add a racing look are Corvette rally stripes and our Center Mass Hood stripes. Stripes don't look good on all Corvettes, but if you're going for the go-fast look, some of these C7 Corvette vinyl decals will really help you get there.
We have everything from C7 Corvette fender emblems to interior Corvette badges and lettering. It's the simple things that can really help make your Corvette unique and match your personality. C7 Corvette hood emblems are really something that everyone should try out and tool around with. When someone walks up to your car or you drive by a group of people at a car show, emblems truly are the first detail everyone is going to see. Right after noticing the front emblems, people will see your rear hatch C7 Corvette decals. The options are endless. You can make them look smooth and flush or you can make them stand out so no one misses them.
For all the love you put into your Corvette, funnel some of it by adding some C7 Corvette emblems for detail. Browse our inventory here at Southern Car Parts. We have some of the coolest little details to help you make some of the biggest differences.
C7 Corvette Letter Sets & Emblem
Minimal Price: $ 8.99 8.99