C7 Corvette Side Skirts
---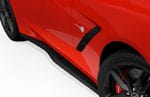 C7 Corvette Side Skirts for Z06 and Stingray
Southern Car Parts offers every Corvette owner the chance to add to their Corvette's stance with our C7 Corvette side skirts. Our line of Corvette parts come from the aftermarket automotive industry's best manufacturers. You'll find C7 Corvette Stingray side skirts on our site from companies like ACS, APR, LG Motorsports and more.
Some of the easiest installs we offer are a pair of our Zero1 ACS C7 side skirts. These side rockers can install in 30 minutes per side and will give your Corvette an unmatched look. Our C7 side skirts come in Satin Black finish, which can look sharp with matching black exterior accessories like black wheels, and black trim parts. Other C7 Z06 side skirts we offer are the American Car Craft polished extension with supercharged inlaid lettering. These Corvette C7 side skirts go great on Corvettes that utilize a lot of chrome trim to bring out more of an elegant look.
We also offer a lot of C7 carbon fiber side skirts for your Corvette. Carbon fiber is light in weight and durable. The distinct material pattern of carbon fiber also goes great on Corvettes with darker colors like Watkins Glen Gray Metallic, Carbon Flash Metallic or Jet Black. Carbon fiber C7 Corvette side skirts also help give your sports car more of a racecar look. To complete your ready-for-the-track look, add side rockers and make sure they match up with a carbon fiber hood, front spoiler and rear spoiler, you can accomplish that look with ease.
A Lower and Bolder Stance with Our C7 Side Skirts
No matter what look you are going for, our C7 Corvette carbon fiber side skirts will help make the appearance of your Corvette look lower to the ground without doing any suspension work to your vehicle. For people who don't want to get involved with messing around with the mechanics of their finely tuned Corvette, this is a great way to make your Corvette appear lower while adding an aggressive look to it with a minimal amount of work.
All of our C7 Corvette side skirts come with all of the hardware you need to make a complete installation. Most experienced car guys should be able to accomplish the installation in your driveway on a Saturday afternoon. So browse our Southern Car Parts inventory and find the look that you think best fits your Corvette's color and style.
Minimal Price: $ 119.99 119.99