Corvette C7 Exhaust
---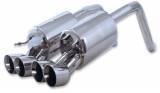 C7 Corvette Exhaust
Improve the performance of your 2014-2018 Corvette with C7 Corvette exhaust products from Southern Car Parts, a leading supplier of the best exhaust for C7 Corvette models.
Southern Car Parts sells many C7 Corvette exhaust parts and accessories that boast exceptional craftsmanship. Our C7 Corvette exhaust systems have been shown to deliver proven results and ensure C7 Corvette owners can boost the performance of their vehicles in no time at all.
In addition, we constantly update our inventory, guaranteeing that you can purchase the right exhaust parts at the lowest prices. That way, if you need C7 Corvette Corsa exhaust, C7 Corvette exhaust plates or an entire C7 Corvette exhaust system, we've got you covered.
Check Out a Large Selection of C7 Corvette Exhaust Products from Southern Car Parts
At Southern Car Parts, we want to make it simple for you to discover high-quality Corvette C7 exhaust products at prices that match your budget. We always go above and beyond the call of duty to supply C7 Corvette exhaust products that can help you enhance your vehicle's performance.
For 2014, 2015, 2016, 2017 and 2018 Corvette models, there may be no better choice than our C7 Corvette dual-mode exhaust products. Or, if you need Borla exhaust for a Corvette C7, we're happy to help you find exactly what you need.
We sell only the best C7 Corvette exhaust products every day. Also, our team is passionate about all things automotive and can provide expert support as you search for the right C7 Corvette exhaust parts and accessories.
Perhaps best of all, our Corvette C7 exhaust products come from a variety of industry-leading automotive parts manufacturers, including:
*Borla
*Billy Boat
*Corsa
*Akrapovic
When it comes to providing top-of-the-line Corvette C7 exhaust products, Southern Car Parts won't be beat. We sell dozens of outstanding exhaust products for C7 Corvette models and will do whatever we can to help you find the ideal exhaust parts and accessories for your vehicle.
Browse Our Extensive Collection of C7 Corvette Exhaust Products Today
You don't need to be a 2014-2018 Corvette expert to reap the benefits of C7 Corvette exhaust products from Southern Car Parts.
For years, Southern Car Parts has dedicated itself to serving Corvette owners in any way we can. We supply the latest and greatest Corvette C7 exhaust systems, all of which feature high-grade materials for long-lasting quality. Plus, we employ friendly, professionally trained automotive specialists who are proud to assist our C7 Corvette owners day after day.
Select Southern Car Parts for C7 Corvette exhaust parts and accessories.
We'll help you take the guesswork out of finding terrific C7 Corvette exhaust parts, C7 Corvette dual-mode exhaust systems and other C7 Corvette exhaust products.
Minimal Price: $ 38.66 38.66