Corvette C7 Exhaust
---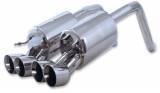 Shop C7 Corvette Borla Exhaust Systems, Billy Boat, Akrapovic and more
For improved performance and sound for your Corvette, find the largest selection of C7 Corvette exhaust systems here at Southern Car Parts. From Corsa exhaust Corvette products to aFe exhaust systems, American Racing headers, Billy Boat NPP style exhaust systems and much more, if you want someone to hear you coming with that great America muscle car sound, then you have come to the right place to shop.
There is no better feeling than the rumble of an aftermarket high-performance C7 Corvette Borla exhaust system, and we have an inventory filled with them. Using Acoustically Tuned Applied Kinetic technology, our C7 Corvette Borla ATAK Exhaust System offers you the most aggressive sound you will need for your Chevrolet small-block. To give you the best of both worlds, Borla also offers improved horsepower and torque across the RPM range. And you'll definitely enjoy their premium quality integrated valve technology that allows your aftermarket exhaust system to work with Corvette's multi-stage driving modes and fuel-saving cylinder deactivation systems.
Upgrade with C7 Corvette Borla Exhaust
For the ultimate Corvette performance exhaust C7 upgrade, add a pair of headers to your Borla C7 Corvette exhaust system. A set of headers would really open up the whole exhaust system from front to back making sure you have the least exhaust restriction possible. Most of these C7 Corvette exhaust applications are bolt-on upgrades that don't take extensive modifications to accomplish the install. We carry headers from Kooks, Stainless Works, LG Motorsports and more.
What better way to add a ton of horsepower and torque then dumping out the stock exhaust for a system that will work more efficiently with the many other upgraded parts you probably plan on installing or already have installed. The more high-performance parts you install on your Corvette without an upgraded C7 Corvette exhaust system, the less likely those other high-performance parts will perform at their potential.
Although most people aren't going to see your entire Corvette C7 Z06 exhaust system, never underestimate how important it is to take the time to choose a set of good exhaust tips. We offer plenty of options for an exhaust tip upgrade. A C7 Corvette Perforated Exhaust Filler Panel or a filler panel with unique Red LEDs are great choices to beef up the look of your rear end. Companies like Billy Boat Exhaust offers you oval, round or a speedway look on many of their systems. You can even go with an all black-out look for your C7 Corvette exhaust tips. It really just depends on your taste and what you think looks best on your Corvette.
If you have a high-performance NPP Corvette exhaust, you may not like the timing of when the valves open up to let the exhaust flow freely. Here at Southern Car Parts, we have a solution for those Corvette C7 exhaust systems. We sell a C7 Corvette Mild to Wild Exhaust on Demand Switch, which is a wireless exhaust controller that allows you to switch the valves open or closed whenever you want. You can either use the key fobs that are included with the upgrade or you can easily hook the Mild to Wild Switch up to your Homelink system. The key fobs are nice if you are in a situation where you're not in your car but still want to show your buddies what your exhaust sounds like when the valves are open. With a 50-foot working distance, you can open and close the valves whenever you want even at idle. Installation is minimum because the Mild to Wild Switch is a plug-in and play 5-minute install that takes no drilling or running of wires of any kind.
Don't let your stock C7 Corvette exhaust drag you down. The exhaust bends and the smaller piping just isn't going to give you the sound or the performance you want out of America's coolest sports car. Give Southern Car Parts a call today, we will help you put a C7 Corvette Borla exhaust system together that we guarantee you will love.
Minimal Price: $ 29.95 29.95