Corvette C7 Home & Garage Gear
---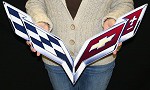 2014-2018 C7 Corvette Stingray Home and Garage Gear
Southern Car Parts has your home and garage covered with a nice selection of items to show off your pride and joy. We are adding to our selection each and every week, so be sure to keep checking back.
You can find items such as Corvette jack pads to keep your Stingray's body from being damaged or crushed while you jack up your car. Floor garage stops, so you can line up exactly the same place when you put your C7 down for the night. Door and wall guards to keep you and you passenger from slamming your door into the garage wall.
Non garage related items like wall clocks, pens, puzzles. Pretty much anything C7 Corvette related.
Corvette C7 Home & Garage Gear
Minimal Price: $ 8.99 8.99