Corvette C5 Brakes
---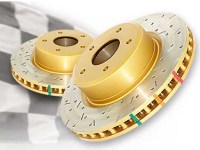 There has never in recent times been a Corvette produced with an engine smaller than a V8, and with good reason, Corvettes are made for power. But along with power, Corvette engineers also spend the same time on braking and handling. Power means nothing in a car if you can't stop it. Here at Southern Car Parts, we understand the importance of this concept and proudly present a wealth of C5 brakes and brake packages on our website.
From individual components to entire C5 Corvette brake kits, the ability to stop your Corvette better, stops here with us. We deal with the best brands in the business because we believe that stopping your car properly is safer for everyone on the road. Whether you are just looking for a set of stock replacement C5 Corvette rear brakes or you want to go big with an aftermarket set of C5 Corvette front brakes, we have it all for you. Brands like AP Racing, Brembo, Wilwood and more all grace the pages of our website. We even offer you accessory options like parking brake cables and rear parking brake shoes because keeping your car stopped when you're not in it is just as important as stopping it when you're in it.
Our C5 Z06 brakes are among some of our customer's favorites because the Z06 came from the factory originally with competition brakes on them. So if you're looking for a set of C5 Corvette brakes that are very powerful and can replace your stock brakes with very little effort and no customizing, a set of C5 Corvette brakes will fit right behind your stock wheels. If you're ready for the big time then some of our Brembo GT-R C5 Corvette brake pads will do the trick. Add that in with a set of diameter slotted Brembo C5 Corvette brake rotors and you can fly down the quarter mile as fast as you want with no worries of stopping.
Stop Tough with Our C5 Corvette Brakes & C5 Z06 Brakes
But we understand that not everyone is out there to go as fast as they can and stop on a dime. Some of you guys are just looking for a good set of C5 Corvette Z06 brakes to replace the worn out brakes that you're riding on. C5 brake pads are probably the most common parts that are going to wear out on your Corvette, there's just no way to making them last forever. That's why we find it very important to offer you a wide range of C5 Corvette brakes and components to choose from. Whether you are racing or just cruising, keeping your brakes updated is extremely important.
If it's time for you to get a brake job done or you're looking to upgrade to a set of C5 Z06 brakes or better, give us a call at 1-888-631-1433, we can help you find the perfect brake system for your situation. Your local parts store brakes may be good enough for your daily driver, but when it comes to your Corvette, come to us for the best brands and prices on the Internet.