Corvette C5 Interior
---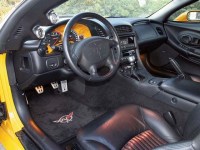 C5 Corvette Interior Parts, Accessories & Mods
Corvette has always done a good job of offering the public an up-to-date interior that also shows off style. But updating, upgrading or replacing interior parts is something that often looms on the mind of all car enthusiasts. Here at Southern Car Parts, we have the perfect solution for those car enthusiasts with our inventory of C5 Corvette interior mods.
If it's simple replacement parts that you're looking for, you're definitely in the right place. We can help you find the direct Corvette replacements for any broken or worn out C5 Corvette interior part. We also work with aftermarket and add-on C5 Corvette interior accessories. So if you're looking to do more than just replace some old parts and upgrade, you can still find what you need.
Boost Your Sports Car Image with our C5 Corvette Interior Parts
Some of our colored lettering, stainless steel parts, and leather replacements with logo specific badges, can bring a whole different vibe to your interior. Our C5 Corvette interior accessories can also make a big hit at car shows. Everybody loves to pop their head into a person's car, no matter how many of the same make and model cars he's seen that day. Why not be that guy that gives them something different to look at? Small changes like sleek C5 Corvette seat covers can make a huge difference in the interior. Plus our seat covers are the perfect fit for your specific Corvette and will look completely custom to your taste.
Another great way to change your interior appearance with our C5 Corvette interior accessories is a set of LED HUD and DIC replacement lights. Although not visible to car show enthusiast, this is a fun way to freshen up the ambient lighting in your Corvette to make it as cool on the inside as it is on the outside. Plus, adding LED lights and trim along with anodized aluminum gauge bezels will impress any passenger.
For all the hard work we put into keeping our Corvettes clean inside and out, why not add the details that makes our Corvettes unique to our personalities? Most all of our C5 Corvette interior parts are simple installs and will not in any way hurt the original value. This is just a great way for Southern Car Parts to offer you a chance to show off your Corvette pride with replacement parts and accessories. Keep your American sports car interior fresh and browse our inventory today.
Minimal Price: $ 5.95 5.95