Corvette C5 Body Parts
---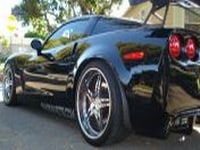 1997-2004 C5 Corvette Body Parts
Trunks, Side Skirts, Spoilers, Diffusers, and other Body Component Pieces for the C5 Corvette
Upgrade your exterior style and performance with high quality body component pieces for your C5 Corvette today. Each piece offered in our C5 Corvette exterior parts catalog is manufactured by an industry leader, and will bring great fitment, style, and performance bonuses to your car. Fiberglass, urethane, Carbon Fiber, and stainless steel components for the C5 Corvette can help give your 'Vette a more custom, show-car look, and can also help it perform better on the track.
Modify your Corvette exterior with incredible body panel and body kit pieces for it that will provide a more custom and modified, and aggressive, appearance. Aftermarket body panel pieces are ideal for both showcar and racetrack Corvettes, as they provide style and functionality. Splitters, side skirts, diffusers, and spoilers not only look great on the gorgeous C5 Corvette body but also provide aerodynamic improvements to help with drag and downforce numbers under the most intense driving conditions. In addition to helping with body dynamics, carbon fiber pieces are also extremely lightweight and are a fantastic way to shave pounds off of the curb weight of your C5 Corvette.
These pieces are all factory replacement and feature both fitment and quality as though they were straight from GM at a more affordable price and with enhanced Corvette styling. Every Corvette Body part in this section of our catalog comes ready for painting and installation and will fit your C5 Corvette perfectly when properly installed. Whether you need better aerodynamics or just an improved Corvette exterior look, there's something here that will match your Corvette's exterior lines perfectly and provide a more custom and exciting appearance.
Minimal Price: $ 19.99 19.99