Corvette C5 Exterior
---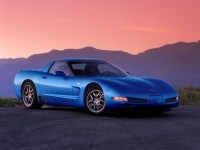 1997-2004 C5 Corvette Exterior Parts
Exterior Trim, Accent, and Body Pieces for the C5 Corvette
Whether you're looking for a replacement license plate frame, chrome Corvette trim, a high performance Corvette splitter or spoiler, or some other exterior component for your C5 Corvette we're happy to offer it. With a wide and varied catalog featuring aftermarket parts from the industry's finest manufacturers--each built from the highest quality stainless steel, chrome, aluminum, carbon fiber, and ABS ingredients--Southern Car Parts is your one-stop C5 Corvette shop. If you want to take your Corvette to the track or to the show, we have just the products for you. For any questions you may have, please feel free to give us a call.
We carry everything you could want or need for the exterior of your Corvette. At Southern Car Parts we offer Carbon Fiber Corvette products from Seibon Carbon and APR Performance as well as Stainless Steel Corvette trim products from name brand manufacturers like American Car Craft. From our wildly famous Corvette Nylon Stretch Bra, Corvette Tail light Seals, Custom Corvette Hoods, and a complete line of car care products we have something for anyone that is looking to differentiate their Corvette from the rest of the pack and customize and improve their Corvette's exterior styling. Corvette exterior parts are available to keep your ride looking factory perfect, or select custom parts for an extra special touch on your Corvette showcar. Everything you need to spice up the exterior of your Corvette is here. We are always adding new products so be sure to come back and visit again soon.
Our Corvette exterior products catalog is rich and extensive, and features thousands of parts across multiple categories from the industry's top manufacturers. Corvette APR Performance Carbon Fiber components provide beautiful, light weight, and strong carbon fiber Corvette components, and custom chrome and stainless steel Corvette exterior trim pieces can help add extra zing and pizzazz to your Corvette exterior. Each and every product in our catalog is hand chosen by us from the finest manufacturers to ensure that you're shopping for and receiving items of only the highest quality, and at the internet's most competitive prices.
So, whether you're shopping for a Corvette supercharger hood, Corvette side skirts, Corvette emblems, Corvette LED lights, a Corvette spoiler, or some other Corvette exterior trim modification piece rest assured that we're your one stop shop for quality and savings. Every Corvette exterior component in our catalog is sure to satisfy.
Minimal Price: $ 5.95 5.95