1953-1996 Corvette Restoration Parts
---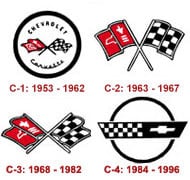 Do you have a Corvette that needs to be restored? Maybe you have been putting off your Corvette restoration project because you fear you'll never finish. No one likes to start a project and leave it half done, and restoration projects can take a few months, if not years. One of the biggest problems people come across when starting a restoration project is finding the desired GM restoration parts for their Corvette.
Here at Southern Car Parts, we are proud of our inventory that is filled with some of the most sought-after vintage Corvette parts on the market. Whether you are looking to find Corvette reproduction parts for your C1, C2, C3 or C4, we're an internet one-stop shop that can help you. Browse restoration parts for your interiors, your exteriors and for under the hood; finding those pesky parts that no one seems to carry may have just gotten a little easier.
We deal with the best manufacturers in the business so you never have to worry about quality. Not only do we lead with quality, but we also offer the best prices on the web. If you do end up finding someone else that sells a certain set of Corvette restoration parts for a lower price, feel free to call us. We will do our best to either beat that price or at least match it.
Find the Corvette Restoration Parts You Need with Southern Car Parts
Here at Southern Car Parts, we are all car guys just like you! We can't stress enough how we feel you. We know about the hardships of finding every little part you need for a restoration. We also know what it's like to scour the junkyards and online forums for vintage Corvette parts. Most of us were tuning up our cars before the Internet was even an idea. But now we think it's crazy to do all that searching and driving from one swap meet to the next, knowing that you can buy brand new Corvette restoration accessories right here with us. With great prices and free shipping on most normal sized parts, our website is the Corvette enthusiast's jackpot.
When you finally find yourself with that itch, and you're ready to start shopping for some Corvette restoration parts, browse our inventory. We guarantee you will see that we have the best selection on the web. Also, know that you can give us a call with any questions you may have about any of our vintage Corvette parts. We will always do our best to answer all of your questions to the best of our knowledge. Give us a call today at 1-888-631-1433.
1953-1996 Corvette Restoration Parts
Minimal Price: $ 13.95 13.95