Home

/

Adams Wheel and Tire Products
Adams Wheel and Tire Products
---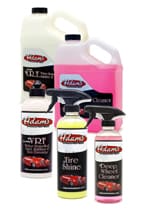 Our top of the line quality wheel brush makes that wheel project fuss a thing of the past! With our full size, 17.5" long black and blue wheel brush you can quickly and easily remove all that hard to reach brake dust, dirt slime and grime. Our wheel brush is a very popular item for high-end car owners all across the country. This speedy wheel brush comes in blue and red. Please make your selection below.
Adams Wheel and Tire Products
Minimal Price: $ 16.00 16
You have no items to compare.