2010-2015 Camaro Brakes
---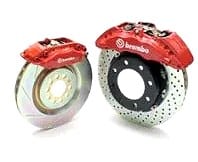 2010-2015 Camaro Brake Parts and Braking Accesories
Brake Pads, Rotors, and complete Kits for the 2010 and newer Chevrolet Camaro
When you're behind the wheel of more than 400 horses of American V8 power, you're going to need to react fact, and even the most skilled driver is limited by the capabilities of his vehicle. Upgrading your brakes--either with new rotors and pads, or with an entire performance big brake kit--will give you a whole new level of braking performance and the confidence that comes with it. Whether your 5th Generation Camaro tears up the street or the track, we have a brake package that's right for you.
The popularity of the 2010-2015 Camaro has lead to large numbers of aftermarket performance manufacturers developing braking products for the 5th Gen version. We've compiled our favorite manufacturers in one place here at Southern Car Parts to become your one-stop shopping source for Camaro Brakes, Camaro Rotors, Camaro Pads, and Camaro Big Brakes. Whether you're looking for DBA, Hawk, Wilwood, Brembo, or something else, we've got what you need and can get it to you at the internet's most competitive pricing. Be sure to look through our entire Camaro brakes catalog and give us a call if you find yourself with any questions.
You can be sure when you pick up the phone to ask a question or recommendation about our 5th Generation Camaro line of brakes, rotors and calipers, you'll get an honest answer and we'll make sure to steer you in the right direction.
Minimal Price: $ 67.00 67