2010-2015 Camaro Exhaust
---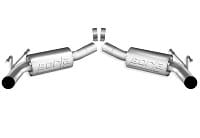 2010-2015 Camaro Exhaust
2010-2015 5TH Generation Chevrolet Camaro Exhaust
Southern Car Parts carries premium aftermarket components for legendary American sports cars, and our selection of 2010-2015 Camaro exhaust systems is packed with popular favorites. If you're looking for a 2010-2015 Camaro SS exhaust system or other 2010-2015 Camaro exhaust accessories, you've come to the right place. In-store or online, nobody offers the selection, value and customer service like we do for our 5th generation Camaro exhaust parts.
Browse our 2010-2015 Camaro Exhaust Systems Today
Southern Car Parts carries 2010-2015 Camaro Z28 exhaust parts and other popular exhaust components for the 5th generation 2010-2015 Camaro. Make your car's performance pop. Don't settle for 2nd best on the track or the showroom floor. With Southern Car Parts, you'll find a 2010-2015 Camaro exhaust system you can show off and one that meets – and exceeds – your expectations.
Regardless of your Camaro, the best way to gain an immediate boost in HP and torque is with a 2010-2015 Camaro SS exhaust, 2010-2015 Camaro ZL1 exhaust or 5th generation Camaro V6 exhaust. All of our 2010-2015 Camaro exhaust components are designed to outperform stock accessories. The best part: they offer do-it-yourself installation convenience for involved car enthusiasts. Everything you need for professional-grade results is included with our 2010-2015 Camaro exhaust kits. For premium power and a deep, full-tone sound, try a 2010-2015 Camaro dual mode exhaust from Southern Car Parts.
Need a 2010-2015 Camaro ZL1 Exhaust? Shop the Southern Car Parts Camaro Exhaust Store
Cat-back configurations, full part replacements, exclusive touring exhaust kits for the 2010-2015 Camaro – if you need it, Southern Car Parts has it. And even if you can't find it, contact our Camaro parts experts and we'll help you hunt it down.
To learn more about our Camaro exhaust systems, including the 2010-2015 Camaro Borla exhaust, or any other exhaust for the 2010-2015 Camaro, browse our entire selection of high-end, affordably priced Camaro exhaust systems today. If you're not sure which 2010-2015 Camaro SS exhaust to purchase, give our exhaust parts consultants a call at 888-631-1433. Thanks for making SCP the leader in 2010-2015 Camaro exhaust systems – we appreciate your business.
Minimal Price: $ 25.95 25.95