2010-2015 Camaro Headers
---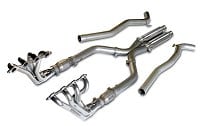 2010-2015 Camaro 5th Generation Headers
Long Tube and Short Tube Headers for the 2010 and Newer Camaro
Southern Car Parts stocks premium Camaro parts, and our 2010-2015 Camaro headers include some of the finest performance accessories you'll find anywhere. From Kooks headers for your 2010-2015 Camaro to general 5th gen Camaro headers, SCP always delivers with the best products and lowest possible prices. Plus, our Chevy parts experts will help you make the right choice with any set of 5th gen Camaro long tube headers and other premium exhaust kits.
All of the 2010-2015 Camaro headers at Southern Car Parts increase airflow – and optimal air flow is the single biggest ingredient for better power, more torque and also better gas mileage! Simply put, our 5th gen Camaro long tube headers deliver every time – particularly our 2010-2015 Camaro SS long tube headers. Speed AND sound – with SCP's 2010-2015 Camaro long tube headers, you get the best of both worlds.
Top-End 2010-2015 Camaro SS Long Tube Headers
We only sell 2010-2015 Camaro headers from manufacturers we trust. The staff here at Southern Car Parts includes many Camaro fanatics – and if we wouldn't put them on our Camaros, we won't sell them. It's as simple as that. Which means every set of 5th gen Camaro headers at SCP is pre-approved by some of the most trusted Camaro experts in the industry!
Whether you need LT1 2010-2015 Camaro headers or any other set of 2010-2015 Camaro V6 headers, Southern Car Parts is ready to help with your next DIY project. Browse our site for the best 2010-2015 Camaro headers for sale. Great prices. Unbeatable selection. And the customer service & expertise you've come to love – Southern Car Parts has everything you're looking for. If you can't find 5th generation 2010-2015 Camaro SS long tube headers, just give us a call at 888-631-1433, and we'll help you find what you need. We're excited to help with your next Camaro upgrade project – give us a call today!
Minimal Price: $ 866.25 866.25