2010-2015 Camaro Air Intake Systems
---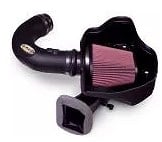 2010-2015 Camaro Cold Air Intakes & Cold Air Inductions
You're not going to find a better way to add a little extra horsepower to your Camaro then with one of our Southern Car Parts 2010-2015 Camaro intake systems. Every gas powered engine on the planet needs air to run, and the more air you can push into to a 2010-2015 Camaro intake manifold the more horsepower you will achieve.
Yes, more horsepower is always nice, but better fuel efficiency and throttle response are also bonuses that shouldn't be overlooked. Southern Car Parts 2010-2015 Camaro air intake systems can offer you all three of those perks. These simple bolt-on upgrades can add up to an extra 15-25 horsepower, a better throttle response and about a 2-5% percent increase in fuel efficiency. When you look at other Camaro add-ons, you will see this upgrade is the best bang for your buck.
Many of our 2010-2015 Camaro cold air intake induction systems are direct bolt-ups. This means that with the simplest of tools, even the novice car guy can hook one up in a short period of time. Whether you are looking to hook up a cold air induction system on your 2010-2015 Camaro V6 or you have the bigger V8 and you're going for a bigger upgrade like a 2010-2015 Camaro SS intake manifold, a few hours of getting your hands dirty can add to the driving fun of your Camaro.
More Horsepower with Our 2010-2015 Camaro Cold Air Intake Systems
5th Gen Camaros already come with cold air intakes, but like every car that is designed by the manufacturers, they are not designed to fully utilize the power of a Camaro. Adding cold air inductions to your 2010 -2015 Camaro V6 allows you to be one step closer to capturing the Camaro's full potential. We also offer other 2010-2015 Camaro intake parts like a Camaro SS Vararam Power Wedge throttle body spacer or our throttle body spacers from Airaid. These are great parts to add to your Camaro ZL1 intake system. They are dyno tested and approved to add more boost, horsepower and even torque throughout the mid-RPM range.
When searching for the best 2010-2015 Camaro cold air intake, know that we only deal with the best manufacturers in the business - K&N, aFe, Airaid, SLP and much more. Here at Southern Car Parts, we know choosing the right 2010-2015 Camaro intake system can be confusing, so we encourage anyone who has any questions about Camaro cold air induction choices to please give us a call and let us help.
2010-2015 Camaro Air Intake Systems
Minimal Price: $ 119.00 119