2010-2015 Camaro Performance Products
---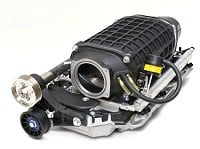 2010-2015 Camaro Performance Parts
Performance Parts and Accessories for the 2010 and newer Camaro
The rumble of 8 cylinders. The feel of the shifter in your palm. The give of the pedal beneath your feet. The rush of excitement as your stomach presses backward, stuck in your chair.
The force and fun of driving a Camaro. There are few things on Earth that rival the Camaro driving experience, but hey, even the greatest things on Earth can be improved upon. We've collected a number of miscellaneous performance accessories for the Camaro in to our catalog that will help make your driving experience more enjoyable. If you're looking for a short throw shifter, a performance clutch, or a Camaro tuner we've got it for you, and, if you need to keep yourself safe from the law once you've pulled more power from your 400+ horsepower LS engine, a radar detector to warn you of potential Police threats is a perfect addition as well.
Perhaps our most popular product is the CAGS 1-4 skip shift eliminator. Just plug this tiny device into your stick shift 5th Generation Camaro and you'll permanently eliminate that annoying 1-4 shift that GM has designed into your Camaro.
2010-2015 Camaro Performance Products
Minimal Price: $ 19.99 19.99