2015-2017 Ford Mustang Car Covers
---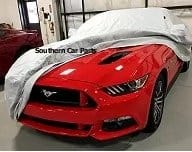 2015-2017 Ford Mustang Cover Covers
Indoor Covers, Outdoor Covers and All Weather covers
We've got your 2015-2017 Ford Mustang S550 Covered...literally. We offer a wide selection of car covers for your Mustang. We carry the complete line of 6th Generation Ford Mustang Coverking and Covercraft car covers. Many years of experience with various car covers have taught us the value of a truly high quality car cover, and we have consistently found covers designed and manufactured by both Coverking and Covercraft to be the best on the market.
Let's look at some of the available options. Covercraft offers some of our favorite covers and we are excited to share our experience with our customers. The Noah cover is a great all purpose indoor/outdoor cover that also includes a soft inside liner so it is very easy on the paint, the Form Fit Mustang cover is good for indoors and looks fantastic while protecting your 6th Gen Mustang in the garage, the Block It Evolution is a heavy duty cover that is great for indoor but especially outdoor use.
Southern Car Parts is one of the leaders in Coverking car covers for your Mustang as well. We carry the complete line of Coverking covers, from the indoor Satin Stretch, the outdoor Triguard, the heavy Coverbond, the all-weather Autobody Armor and more. If you need a new car cover for your Mustang, then you've come to the right place. Don't let another minute go by, your S550 Mustang deserves the loving care of a top quality car cover and Southern Car Parts is here to help!
2015-2017 Ford Mustang Car Covers
Minimal Price: $ 59.95 59.95