2015-2017 Ford Mustang Light Blackout
---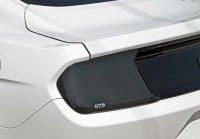 2015-2017 Ford Mustang Light Blackout Kits
Is a 2015-2017 Ford Mustang your prized possession? Well, you have made it to the right spot just in time. We, at Southern Car Parts, can help you pep up the look of your Mustang by offering high-quality lighting and blackout upgrades.We manufacture and sell a wide variety of lighting accessories and blackouts for your pretty Mustang. Ranging from side markers, headlights, development kits for taillights, reflectors to reverse lights, we have it all laid out for you under one roof. We are dedicated to offer nothing less than the best and so we offer LED lights, accessories from first-grade manufacturers such as Oracle.
Upgrading the look of a car is all the rage nowadays. At Southern Car Parts, we know how important it is for you to give your car and stleath new look. This is one reason we offer the finest lighting and Black-Out upgrade services for your 2015-2017 Ford Mustang; LED upgrades to replacement parts, we will cover you for everything. Easy to install, durable and quickly delivered- are some highlights of our products. Coming from high-end brands our lighting accessories for your 2015-2017 Ford Mustang are customized to fit perfectly and amp up the style quotient of your ride.
A brilliant way to enhance the style of your 2015-2017 Mustang's rear-end is to add the best quality Taillight Blackout Panels that are now available on your website at affordable prices. Whether you name brands like Ford or Oracle, you can lay your trust on our shoulders. Pick the accessories that suit your style and go give your car that swanky new look. For any queries that you may have, please feel free to reach us. We will make sure our customer care representative gets in touch with you at the earliest. Also, when it comes to orders and shipping, we have a methodological process to ensure you do not face any hassle. Browse through our section of 2015-2017 Ford Mustang Lighting & Blackouts here.
2015-2017 Ford Mustang Light Blackout
Minimal Price: $ 12.95 12.95