2015-2017 Ford Mustang Cold Air Intakes
---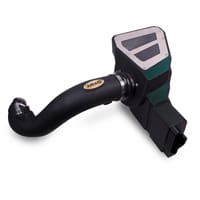 2015-2017 Mustang Cold Air Intakes & Manifolds
For all the extra horsepower we see coming from newer sports cars these days, there are always plenty of ways to add to more horsepower and torque ratings. Here at Southern Car Parts, we offer a whole line of bolt-on performance upgrades including 2015-2017 Mustang GT cold air intake setups. Air intakes are usually one of the first and easiest upgrades that car enthusiast will make. They're affordable and add a great deal of efficiency to your engine's throttle response.
Not only will you be adding a noticeable increased throttle response, a 2015-2017 Mustang cold air intake can help force your engine to put out more horsepower and give you a better MPG rating. These goals are achieved by allowing and forcing more air into your 2015-2017 Mustang intake manifold thus giving the whole fuel-air mixture a much more potent combination for combustion. Even a 2015-2017 Mustang V6 cold air intake will help your V6 Mustang produce performance gains. Although Mustang performance parts are usually thought of as parts that are reserved for the V8s, this is just not true with brand new car parts today. Even a simple K&N air filter upgrade can prove to be a very effective performance enhancer on a six-cylinder.
Add Extra Horsepower with a 2015-2017 Mustang Cold Air Intake
For a much bigger and more efficient upgrade, a GT.Momentum aFe Pro 2015-2017 Ford Mustang cold air intake followed by a 2015-2017 Mustang intake manifold upgrade will do the trick. A bigger 2015-2017 Mustang intake manifold allows the extra air that is coming in from your cold air intake to flow even more freely into the cylinders. The more air that gets in those cylinders is the name of the game when it comes to combustion engines.
If you're running one of Mustang's bigger engine cars and have installed aftermarket high performance parts on it, you can't expect those parts to perform correctly without a 2015-2017 Mustang GT intake manifold. If you're going to start adding engine parts that are bigger than the stock parts, you are going to need that 2015-2017 Ford Mustang intake manifold. If not, you'll just be cutting power by choking off the extra air that is being forced through the manifold and into the cylinders.
Here at Southern Car Parts, we carry the best cold air intake for your 2015-2017 Mustang GT. Our brand selections include K&N, Airaid, Blackwing, Roush, aFe and more. These parts are easy installs, affordable and very effective. If you're searching our site and can't find something or you're unsure of what 2015-2017 Mustang cold air intake system to go with, give us a call, we would be happy to help. We know that every car enthusiast is looking to add that little extra something for performance and we think that a 2015-2017 Mustang intake system is a great way for a novice to do it.
2015-2017 Ford Mustang Cold Air Intakes
Minimal Price: $ 20.99 20.99