2015-2017 Ford Mustang Exhaust Systems
---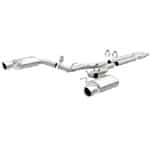 2015-2017 Mustang Exhaust & Exhaust Systems
Every car enthusiast needs an exhaust system on their prized Mustang. Our Southern Car Parts 2015-2017 Mustang exhaust inventory offers you the best selection from the best manufacturers on the web. With so many different configurations to choose from, you can go for something reasonable or go big with a loud exhaust. No matter what you decide, your whole block will know just how much you love your Mustang.
No matter what kind of Mustang you drive, we have an exhaust system that's fit just for you. We offer exhaust systems for your V8 or V6, including 2015-2017 Mustang Ecoboost exhaust systems for your four-cylinder. With brands like Kooks, Borla, SLP, Magnaflow, Corsa and more, you won't find yourself low on any exhaust options. If you want to go bold, consider our Kooks cat-back 2015-2017 Mustang GT exhaust system. Complete with an H-Pipe and 4" blacked-out tips, this 3" stainless steel exhaust system is about as big as you can go before you have to start doing some customizing.
Roar Loud with Our 2015-2017 Mustang Exhaust
If you don't want to go crazy but you still want a nice deep rumbling sound, then you might consider one of our SLP LoudMouth axle-back 2015-2017 Mustang exhaust systems. These are a much easier install than the 2015-2017 Mustang cat-back exhaust. Although they are more affordable, you will still be able to gain some extra horsepower and MPGs with our V8 SLP Axle Back Exhaust Loudmouth. In fact, any exhaust system at Southern Car Parts is an upgrade from the stock exhaust and helps your Mustang perform better. Even our smoother sounding exhaust systems like our 2015-2017 Mustang GT exhaust systems designed by Corsa can give you a huge benefit over a stock equipped Mustang.
But maybe our best exhaust for 2015-2017 Mustang GT is our Borla exhaust systems. Borla is known for their perfect mix between great sound and performance enhancing abilities. Borla as a company, has been around for years making quality exhaust systems for everything from American-made trucks to Italian-made supercars.
With so many great choices and so many different configuration options, Southern Car Parts can see why you might be a little overwhelmed. If you need help deciding what 2015-2017 Mustang exhaust system is best for your application, please give us a call. Our knowledgeable and friendly staff can help you find a 2015-2017 Mustang GT exhaust, V6 Mustang exhaust or an exhaust system for your Ecoboost.
2015-2017 Ford Mustang Exhaust Systems
Minimal Price: $ 29.95 29.95