350Z Body & Covers
---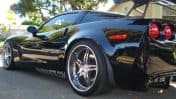 Free Shipping

Protection may be the single most important thing you need to worry about when it comes to keeping the value up on the vehicle you own. Whether it's protection of your running parts, protection of your interior or protection of your high-gloss paint job, your investment won't be worth very much if it doesn't run or look very good. Here at Southern Car Parts, we offer you a whole line of Coverking car covers for your specific vehicle so you can park your car indoors or outdoors with the type of protection from the elements your car deserves. Durable Coverking Custom Fit Car Covers Coverking custom car covers are manufactured to achieve six very important performance duties. First duty is to offer breathability. If your car cover can't breathe, it will trap moisture under the cover causing unsafe condition for your paint and exterior body parts. Second duty is compactness. Being able to pack your Coverking custom fit car cover away in a small place quickly and easily is a huge perk for someone who uses their cover a lot. Third duty is to engineer the most water-resistant materials as possible. Coverking car covers are not waterproof because waterproof materials do not breathe trapping moisture in. Water resistant materials can let out sweat, humidity and vapors to keep your car as dry as possible. Fourth duty Coverking car covers work hard at doing is keeping natural and man-made hazards from eating away at your paint. Tree sap, bird droppings, oils, gases and many other hazards can be defended against with a Coverking custom fit car cover. Fifth goal is offering the softest non-scratch material as possible. Coverking custom car covers should never leave a mark behind when you pull them off of your car. If your car is clean when you install a Coverking car cover, you won't ever find a scratch left behind when you take them off. Sixth goal is UV protection. Even if you have a light color car, you are still subject to sun damage, and it doesn't even have to be on the outside. Sun rays can not only crack and fade your paint but can also crack and fade your interior. We have a Coverking car cover that can fit everyone's budget and style. Are car cover options include: a Satin Stretch car cover, Triguard car cover, Coverbond 4 car cover, Mosom Plus car cover, Silverguard car cover, Silverguard Plus car cover, Stormproof car cover and Autobody Armor car cover. Each car cover offers its own unique set of features. Some have more layers than others, some are priced differently depending on technology advancements, some use different materials and others like the Satin Stretch car covers offer you a sleek and colorful way to store away your special car. But all Coverking custom car covers are custom fit and use the least amount of seams as possible when sewed together. This adds to the quality and the longevity of a Coverking product. Coverking also designs its own fabrics. This allows them to avoid ill-suited off-the-shelf fabrics that aren't designed to protect a car properly. Some of the fabrics we use for some of our products are designed so well they can even protect against minor accidents that can leave small dents and or scratches. Don't be fooled by a generic car cover that you can purchase off-the-shelf at your local parts store. Get a Coverking custom fit car cover that can stand up to Mother Nature and stand up the crazy things that can happen to your vehicle while it's parked in your garage. Southern Car Parts offers you this huge selection of Coverking car covers so you can keep your Camaro looking beautiful for years to come.
Minimal Price: $ 59.95 59.95
You have no items to compare.