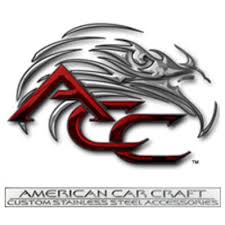 We are a custom car company dedicated to developing unique, high quality products. With more than thirty years of experience customizing all manner of late Model Muscle Cars, Classic Hot Rods, Exotics, Limousines, Vans and more. Our product design concepts are based on flat 304 stainless steel sheet materials that are laser cut and then hand formed and crafted to produce truly amazing, high quality accessories you just won't find from any other company.American Car Craft Made in the USA
Our product line specialty extends from the interior to the exterior of your ride and into the engine bay. We also create state of the art vinyl decals and can create one of a kind custom etched windows and laser etched stainless steel products.
We pride ourselves in the fact that the majority of our car show going customers have achieved top awards such as best of show, best in class, best engine bay, best interior and more. Our success is due to the the dedication of your, our customers and the unique nature of our product line. We have a commitment to develop hot new products at any available opportunity and offer an extensive new car prototype product design program for our customers.
All Of Our Products Are Handmade In The USA!
American Car Craft
---
Minimal Price: $ 13.64 13.64