C2 Corvette Emblems
---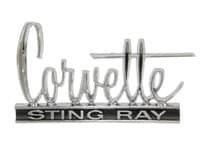 1963-1967 C2 CORVETTE EMBLEMS
Corvette has been an iconic name in the sports car world, since its first generation came to life in 1953. The second generation Chevrolet Corvette or Chevrolet Sting Ray was a functional update that was highly appreciated back in 1956. It was unanimously acclaimed in the automotive press for its sheer power, handling, and road adhesion. Those who own the C2 Corvette might feel the pride associated with it.
Among everything what were famous back then were the stunning emblems of C2 Corvette. The eye-catching emblem was crafted in steel and state "Corvette Sting Ray". Even the fuel injection emblem was available in two variants, and had a tint of blue, white and red in it. These emblems still speak for the rich history of Chevrolet. Losing the emblem of the car takes away it's branding from it, and if that has happened to your 1956-1962 C2 Corvette, then worry no more. Southern Car Parts has 100% original reproduction emblems that will return your car its lost conceit.
We know how passionate you are about your Corvette, and that's why we try to provide the best of our service to make sure, you have a wonderful shopping experience. All the products available on our online store come from reputed manufacturers and distributors. You do not have to worry about the quality of the C2 emblems or products at all. We know investment of any kind gives thrills of anxiety and you want to be assured before your pay. For this we have a separate section where you can ask queries regarding any of our products, and our teams of customer care executives, will try to answer all your questions. Not only this, we also provide free shipping around the globe. When purchasing from Southern Car Parts be assured of everything, you will just get the best.Take a look at the 1956-1962 C2 Corvette emblems here.
Minimal Price: $ 29.99 29.99