Home

/

Adams Wheel and Tire Products
Adams Wheel and Tire Products
---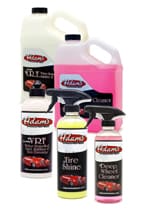 Our top of the line quality wheel brush makes that wheel project fuss a thing of the past! With our full size, 17.5" long black and blue wheel brush you can quickly and easily remove all that hard to reach brake dust, dirt slime and grime. Our wheel brush is a very popular item for high-end car owners all across the country. This speedy wheel brush comes in blue and red. Please make your selection below.

Here is your chance to get the ever popular Speed Master Wheel Brush and the C6 Corvette Lugnut Brush in a combo package and save money at the same time. The Speed Master Wheel Brush is the most advanced wheel detailing brush today! Built for quick, effective cleaning of all wheels, the Speed Master Wheel Brush has a state-of-the-art design that cleans any wheel surface and any wheel design – without scratching! Brake dust beware! There's nowhere to hide from the Speed Master Wheel Brush. Regular, thorough wheel cleaning is imperative for all vehicles. Brake dust is highly corrosive to wheel finishes, and it is generated each and every time you apply the brakes. Brake dust is made of brake pad dust and red hot metal filings from the rotor. This volatile mixture eats through protective wheel finishes and pits the metal, permanently eliminating that bright metallic shine. The C6 Corvette Wheel Lug Nut Cleaning & Polishing Brush allows you to clean recessed lug nuts with minimal effort. The lug nut brush fits over and surrounds the lug nut and with a simple twist, brushes away brake dust and grime instantly. The Recessed Wheel Lug Nut Cleaning & Polishing Brush should be in every detailer's tool box!
Adams Wheel and Tire Products
Minimal Price: $ 16.00 16
You have no items to compare.