Home

/

CalTrend Custom Seat Covers
CalTrend Custom Seat Covers
---

For over 20 Years CalTrend Automotive Products has been committed to manufacturing the highest quality in custom tailored accessories in the industry.
Built on innovation, long term consumer relationship and team work, CalTrend has continued to grow and prosper, which is why we are recognized as a leader in custom tailored seat covers.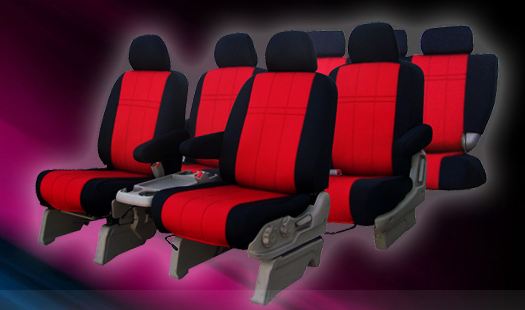 As one of the largest manufacturers of custom tailored seat covers in the USA, CalTrend offers more diversity in custom tailored seat covers than any other manufacturer in the industry. All our products are designed and cut with a state of the art GERBER computerized CAD/CAM system that insures a perfect fit and minimal turn-around time for all our products. CalTrend Seat Covers are easy to install and accommodate side-impact airbags.
CalTrend's application guide has grown to offering many late-model cars, trucks, vans and SUV's including all applications for CHEVY/GMC, FORD, HONDA, JEEP, NISSAN and TOYOTA etc… along with several fabrics and colors to choose from.
With over 20,000 square feet of warehouse and manufacturing space strategically located in Santa Ana, CA, we are very capable of meeting our customer's changing needs.
At CalTrend, the customer is the MOST IMPORTANT person in our business. Everyone says it, but given the opportunity we can prove it.
There are no products matching the selection.
CalTrend Custom Seat Covers