Chevy SSR
---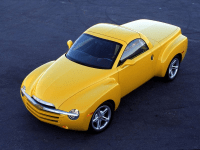 Chevy SSR lloyds Floor Mats
Lloyd's mats have become the standard for sports car owners. Great looks, soft texture and enduring performance are what makes Lloyd's mats the best selling SSR carpet mats in the SSR world. They are made with heavy construction premium nylon yarn and are built to last, hence the reason they come with a 5 year manufacturer warranty. Your choice of carpet color and binding for the professional touch of class. Give your car the protective qualities and added beauty of Lloyd's mats. Each mat is custom cut to fit exactly in your model year car. Both mats come with all attaching hardware and will not move around under your feet. Price includes SSR logo on both mats!!! *****Logo is included as shown in the picture Due to the custom nature of the Lloyd's products we do not offer returns unless the product is defective, please allow 1-2 weeks for delivery. General Motors Trademarks Licensed to Lloyd Design Corp.
Minimal Price: $ 122.90 122.9
You have no items to compare.