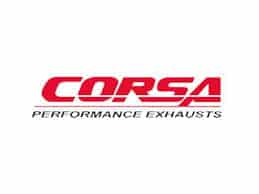 Driven with a relentless passion to deliver the ultimate automotive driving experience, CORSA Performance uses advanced engineering technologies to create market leading & cutting-edge products for the automotive enthusiast. By manipulating airflow and employing unique acoustic technologies; CORSA Performance manufactures air intakes and exhaust systems that deliver additional power and unmistakable exhaust notes that are customized to the exacting demands of the consumer and their vehicle.
CORSA Performance entered the exhaust category in 1998, re-writing the rulebook for what a performance exhaust should be with the launch of our revolutionary RSC® (Reflective Sound Cancellation®) Technology. RSC® Technology allows CORSA Performance the unique ability to selectively target and eliminate resonant frequencies that cause drone, while custom tuning the exhaust note. Since the debut of RSC® Technology in 1998 on the C5 Corvette, CORSA Performance has invested countless resources Perfecting the Science of Sound, resulting in world-wide recognition for high-performance, aggressive exhausts systems that eliminate drone.
With numerous patents protecting multiple generations of CORSA's unique RSC® Technologies, CORSA Performance exhaust systems remain the standard by which all other exhaust systems are measured.
Corsa
---
Minimal Price: $ 339.00 339