Corvette Body Parts
---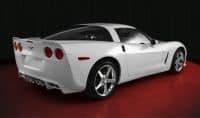 Bring Your Corvette to Life with Our C6 Corvette Body Kits
Let's just face it. We don't buy Corvettes to blend in with the trucks and SUVs that dominate our roads. We buy them to show people we enjoy unique vehicles. When we venture away from everyday traffic into car shows, our stock C6 Corvette body parts can sometimes start to blend in. If you feel that way, then Southern Car Parts has a solution for you. Our inventory of aftermarket C6 Corvette body kit conversions will give your Corvette a look that can take you to the main stage with some of the heaviest hitters at any car event.
One of the more noticeable custom C6 Corvette body parts that can make a big difference in appearance is a set of side skirts. C6 ZR1 side skirts can make your car look lower, more aggressive and yet still stock looking to the average car enthusiast. Right above those side skirts is an opportunity to add another sleek looking add-on to your Corvette. Z06/ZR1 splitters look awesome with the side skirts and definitely help you look different from other Corvettes. A C6 ZR1 front splitter, rear diffuser and Z06/ZR1 Corvette side skirts are sleek conversions for your C6 Corvette body kit that won't necessarily tip anyone off to any aftermarket installs.
C6 Corvette Body Kits & Fiberglass Body Parts
If you're looking for a big change in appearance and you know that you're going to want it all at once, then our full C6 body kits will probably be the best place to look toward. Some people start out slowly with upgrades and others already know that they're going to go for the gusto right off the bat. That's why we have full custom C6 Corvette body kits like our GS APR Z06/ZR1 C6 Corvette carbon fiber parts. This will help make ordering and piecing together the perfect look a lot easier.
Our inventory list a whole line of C6 Corvette body parts that includes everything from front chin splitters and rear fascias to rear spoilers and side mirrors. If there is a part you need or want, Southern Car Parts has it for you. If there are any C6 Corvette carbon fiber body parts or C6 Corvette fiberglass body parts that you don't see on our site or you just simply need help with something, you can always give us a call at 1-888-631-1433. We're Corvette lovers too, and we have the knowledge to help.
Minimal Price: $ 23.75 23.75