Home

/

C7 Corvette Clocks and Neon Signs
Filter
Price

Manufacturer
C7 Corvette Clocks and Neon Signs
---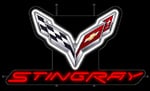 2014-2018 C7 Corvette Clocks and Neon Signs
Wether its a clock for the game room or a neon sign for the "Man Cave" Souther Car Parts has all the latest and greatest Neon Signs and Clock to dress up any room.
C7 Stingray Neon Sign featurning the C7 Flags Emblem "backlit" and surrounded with genuine neon tubing. Plus, the "Stingray" font is sculptured in brilliant neon tubing. The new C7 neon sign comes completely assembled, ready for easy wall or shelf mounting, equipped with a convenient on/off pull switch, a standard 110 volt 8' electric cord and are UL approved. Made in the USA! This Corvette neon sign is sure to add nostalgic ambiance and excitement to your environment! Ships completely assembled, ready for wall or shelf mounting. Measures 31" wide x 18" tall x 6" depth. C7 Flag Emblem Backlit C7 Flag Emblem surrounded with neon tubing C7 "Stingray" font sculptured in hand-bent neon glass tubin 110 watt power electric 8' cord/convenient pull switch Signs(s) mounted on skeletal metal frame Shipped completely assembled/ready for wall or shelf mounting Shipped guaranteed-safe delivery in Continental US UL approved GM Licensed to AutoEtcNeon In inventory, shipped within 5 business days Sign(s): dimensions: 31" wide x 18" tall x 6" depth

• 14" Diameter/2" Deep • Heavy Metal Housing • Powder Coated-Black • Domed Glass Crystal • Clock: AA Battery • Thermometer: Temp. Sensor • 3.0 lbs. Weight • Ready for Mounting • Licensed by GM • Made in the U.S.A.
C7 Corvette Clocks and Neon Signs
Minimal Price: $ 99.95 99.95