Home

/

Corvette C5 Custom Wheels
Corvette C5 Custom Wheels
---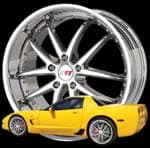 Corvette C5 Custom Wheels
Southern Car Parts has the best selection of custom wheels for your Corvette! If it is wheels for your C5 or Z06, we have custom wheels in Chrome, brushed aluminum and painted black to make your Corvette distinctly yours. Check out all the options and sizes and dress up that Corvette you love.
Our top of the line quality wheel brush makes that wheel project fuss a thing of the past! With our full size, 17.5" long black and blue wheel brush you can quickly and easily remove all that hard to reach brake dust, dirt slime and grime. Our wheel brush is a very popular item for high-end car owners all across the country. This speedy wheel brush comes in blue and red. Please make your selection below.
Corvette C5 Custom Wheels
Minimal Price: $ 16.00 16
You have no items to compare.