Corvette C6 Painted Under-Hood Dress-Up
---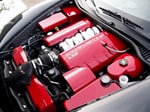 Corvette C6 Painted Under-Hood Dress-Up
At Southern Car Parts, our Corvette pros are here to help you decide on the best painted part for your Corvette C6 and at the best price. We believe that owners of the C6 Corvette look out for quality goods when it comes to their dear car, reason why our aftermarket range of quality painted products is high in terms of quality and assures an experience worth remembering when you add a Southern Car Product to your car. However, all our products are priced at affordable prices and we only buy from authentic top sellers who are reliable in terms of service and quality.
Our 2005-2013 Corvette C6 pre-painted product lineup is getting larger day by day. We are adding C6 painted engine covers, fuel rail covers, plenum covers, and more to our existing range in order to meet the growing needs of our customers. All of our custom-painted under-hood dress-up pieces are done with Dupont paint and Dupont clear coat. We do not use any cheap paints that you'll see at other parts houses that mislead car owners. All of our custom painted engine covers for your C6 Corvette are either custom made ABS plastic covers, GM replacement pieces or hand laid, in the USA, fiberglass covers.
Southern Car Parts not just caters to the needs of Corvette owners but also takes good care of those who ride Challengers, Mustangs, and Camaros etc. You can browse through our website and find the perfect add-ons for your car to add a bit of style to it. If you have any queries, please feel free to take help of our cooperative and friendly staff, who'd be very glad to assist you. Some of our products come along with great offers and free shipping. You can browse through our entire range of Corvette C6 Painted Under-hood Dress-Ups here.
Corvette C6 Painted Under-Hood Dress-Up
Minimal Price: $ 42.95 42.95