Corvette C6 Stainless Under-Hood Dress-Up
---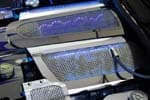 Corvette C6 Stainless Under-Hood Dress-Up
SCP is known for many things in the Corvette world, but one thing we pride ourselves on is being able to deliver high quality C6 Corvette under hood dress up products.. We believe that Corvette owners demand the best and deserve the best quality product available. Thus, our line is high in terms of quality and assures an experience worth remembering when you add a Southern Car Product to your car. However, all our products are priced at affordable prices and we only buy from authentic top sellers who are reliable in terms of service and quality.
Take your dear sports car to the next level with these awesome looking Corvette Stingray Engine Dress Up accessories! Each part has been designed to fit down to the measure on your new ride. The entire process is work of precision, our skilled craftsmen laser cut each part from 304 stainless steel and then hand finish it, right here in the USA. Whether you're looking for just an accent piece for your hood pad or if you want a kit for your entire engine for car show season, we've got you a solution. If you don't find what you need, contact us! We also do custom work and would like to talk about your requirements.
Southern Car Parts not just caters to the needs of Corvette owners but also takes good care of those who ride Challengers, Mustangs, and Camaros etc. You can browse through our website and find the perfect add-ons for your car to add a bit of style to it. If you have any queries, please feel free to take help of our cooperative and friendly staff, who'd be very glad to assist you. Some of our products come along with great offers and free shipping. You can browse through our entire range of Corvette C6 Stainless Under-Hood Dress-Up here.
Corvette C6 Stainless Under-Hood Dress-Up
Minimal Price: $ 35.16 35.16