C6 Corvette Vents and Grilles
---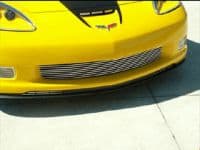 C6 Corvette Vents and Grilles
Your Corvette is already a stunning piece of automobile machinery, but you may want to add to those good looks. No worries, because it is as easy as browsing our C6 Corvette grille and vent product pages. Although Corvettes are amazingly stylish, at car events, especially Corvette events, they can easily blend in. Here at Southern Car Parts, we can help you do just a little bit of customizing to add to the uniqueness of your Corvette without hurting its original value.
We know that you don't buy a Corvette to blend in, but major customizations can and will hurt the value of any Corvette as most potential buyers want their Corvettes original. So, we offer a line of Corvette grille and vent products that are mostly easy installs that don't require any drilling or modifications of any factory parts on your car. Even better, when it comes time to sell, if the buyer does not like the custom work, grilles and vents can be popped out as easy as they are put in.
Find Your Style In Our C6 Corvette Vents and Grilles
We have plenty of C6 Corvette vents and fender trims, C6 vented hood pieces, front grille upgrades, lasher mesh grille inserts for your driving lights and air dams and much more. Southern Car Parts deals with the best manufacturers in the business to guarantee you receive a product that fits perfectly and is long lasting. DefenderWorx, RaceMesh, American Car Craft are just some of the top branded companies we deal with.
Our C6 Corvette Blakk Stealth Mesh Air Dam Grilles offer a durable and sleek way to accessorize your vehicle while our C6 Corvette Z06 Custom Painted Front Fender Ducts help give your C6 Z06 body a pop of color.
Our C6 Corvette vents aren't just for the front of your vehicle. We offer brake duct C6 Corvette vents, tail light grille inserts and more so you can have just as much fun dressing up the rear of your car as you can the front. It's simple, if you want to get your Corvette a little more attention, our line of beautifully finished C6 Corvette grille and vent options is definitely the way to go. We even have some carbon fiber options to choose from. Nothing says sports car better than having some carbon fiber parts to show off at a car show.
For all of your Corvette grille and vent needs, Southern Car Parts is here to help. Our competitive prices and vast inventory will beat all other wholesalers on the web. If you have any questions about any parts we sell, please feel free to give us a call.
C6 Corvette Vents and Grilles
Minimal Price: $ 39.00 39