C6 Corvette Vents and Grilles
---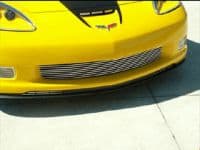 Find C6 Corvette Grills
Adding a little extra style to your Corvette may be important to you, but keeping it mostly original is probably important to you as well. Here at Southern Car Parts, we offer you a huge inventory of very appealing options to help you add some extra flair to your Vette without compromising the value of it. Our C6 Corvette vented hood inserts, front grille, side vents, rear grille insert options and more are a great way to make small noticeable changes to your Corvette without changing the overall look of your well invested sports car.
We offer plenty of products like laser cut stainless steel C6 Corvette grille options, Z06 carbon fiber inserts, brushed fender trim plates for the Grand Sport, billet aluminum grille options, perforated reverse light inserts and more. No matter the look you are going for, SCP can offer you the options to help you accomplish those goals.
Add Style With C6 Corvette Grille and Hood Vents
Styling up your front end can be fun and easy. A C6 Corvette Z06/GS/ZR1 Laser Mesh Blakk Stealth Front Grille from American Car Craft is a great way to put a bold statement toward the front of your Grand Sport, Z06 or ZR1. With a set of Blakk Stealth mesh air dam grilles and parking light inserts, your front end couldn't look any cleaner. For those of you who have a Z06, you can also add a blackout C6 Corvette grille insert there as well to complete the stealthy look.
Along with a lot of options for your front end, we also offer a lot of options for your Corvette side vents. For the front fender, we have many Corvette vents and grille inserts for the Grand Sport, Z06 and ZR1 that can add a little elegance to the side view of your Corvette. We also have options for your C6 Corvette Z06 Custom Painted Rear Brake Ducts. Our painted option in this area offers the lower quarter panel of your Corvette a very sleek look that is very desirable to many Corvette owners and enthusiast.
Upgraded visual options for your rear are also available. Check out our new C6 Corvette Billet Style Tail Light Covers. These products are designed to give you that very custom look to your brake lights. And don't miss our laser cut Corvette grill inserts for your reverse lights. These stylish products are easy installs and make for a rear end that looks pretty cool.
Our Corvette vents and grille packages make for easy and inexpensive installs that add just a little something special to your Corvette's appearance. Most all of our C6 Corvette grille and vent packages don't require you to remove any stock parts and don't require you to do any drilling. You will do most installs by using 3M VHB tape or zip ties for a secure and long-lasting finish.
So why not add a little extra character to your Grand Sport, Z06 or ZR1? From our Corvette hood vents and lower front grille inserts to our side vents and rear grille options, you can really make a difference in your Corvette's styling with just a little bit of work. Give Southern Car Parts a call today and get started adding some elegant detail to your C6 Corvette.
C6 Corvette Vents and Grilles
Minimal Price: $ 39.00 39