Ford Raptor Exhaust Systems and Performance
---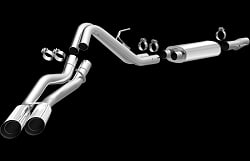 2010-2014 Ford Raptor Exhaust Systems, Headers, Cat-Backs, Tips and More
Find Tune Your Sound with 2010-2014 Ford Raptor Exhaust and Accessories
High performing exhaust systems are both fun and beneficial upgrades to your vehicle. You can achieve better performance, better gas mileage, and of course, above all else, better sound. Southern Car Parts realizes these aspects are very important to a truck owner and that's why we offer a whole line of 2010-2014 Ford Raptor dual exhaust systems.
Reaching the highest decibels with your exhaust isn't really what buying a new exhaust system is all about. Sure it's great to think the less restricted your exhaust is the more power you will get from your truck's engine. While that may be true, is it really that practical? There are a lot of things that should be considered when shopping for a 2010-2014 Ford Raptor exhaust system. For instance, if you just want your 2010-2014 Ford Raptor exhaust tips to look and sound good, you probably don't have to spend a lot of money by having your whole exhaust system replaced. Maybe you're looking for a little more than just an exhaust tip upgrade, but peak performance isn't something you're going to go for too often. If that's the case, our Borla Touring 2010-2014 Ford Raptor cat-back exhaust might be just perfect for the sound and performance you're looking for.
Unsure How to Upgrade Your 2010-2017 Ford Raptor Exhaust System?
If you're going for peak performance, yet you still want to keep the install fairly easy, we suggest our bolt-in 304 American Racing 2010-2014 Ford Raptor long tube header system. This is a great way to free up exhaust restriction for extra horsepower and torque. But maybe the best performing 2010-2014 Ford Raptor exhaust system upgrade we offer is our SVT Borla long tube header and off-road mid-pipe kit. This system is compatible with just about any type of horsepower you try to shove through your engine allowing your other engine upgrades to work at max performance.
Another great way to gain lots of horsepower from your 2010-2014 Ford Raptor headers is with exhaust cutouts. These products are great for cruising your truck at normal speeds with a normal sounding exhaust, but when it's time to push your truck's engine to the max, you can open up the 2010-2014 Ford Raptor exhaust cutouts and have hardly any exhaust restriction. These are awesome products for those truck enthusiast who want the best of both worlds.
From your 2010-2014 Ford Raptor exhaust tips all the way up to your headers, Southern Car Parts has exactly what you need to make the best sounding and performing exhaust choices. We sell brands like Borla, Magnaflow, American Racing, aFe, Ford Racing exhaust and more. If you have any 2010-2014 Ford Raptor exhaust questions, please feel free to call us. Our knowledgeable staff can answer anything from how hard it is to install a set of 2010-2014 Ford Raptor exhaust tips to how much power you can expect to gain from a full aftermarket exhaust install.
Whatever your questions are, please give us a call. Whether it is about warranties, prices or a 2010-2014 Ford Raptor exhaust part or accessory you don't see, our customers are priority number one and we love to help. >
Ford Raptor Exhaust Systems and Performance
Minimal Price: $ 29.95 29.95