Ford Raptor Exterior Parts and Accessories
---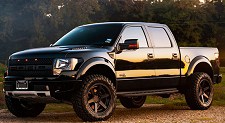 2010-2014 Ford Raptor Exterior Parts, Accessories & Trim
Find the Right 2010-2014 Ford Raptor Exterior Accessories
Trucks are born with attitude. Adding more attitude is just part of the fun of being a truck enthusiast. Here at Southern Car Parts, we have all the 2010-2014 Ford Raptor exterior parts you need to add just the right amount of sass to your off-road truck. Whether you're upgrading for protection, style or both, our line of 2010-2014 Ford Raptor exterior aftermarket parts can turn your average looking stock Raptor into one that looks like it owns the road.
We only deal with the most respected manufacturers in the business. You'll find that whenever you order anything from us, you're getting products that are made to withstand years of punishment. Our 2010-2014 Ford Raptor exterior mods like our front and rear mud guard flaps are a great way to protect your truck's paint job from flying debris while adding a very bold look to your truck's styling. Aftermarket front grilles are another way to make a big, bold statement. Take advantage of 2010-2014 Ford Raptor exterior accessories to add some sex appeal to your ride. Nothing says you're a truck guy like having a truck with a grille people can read from a mile away.
Our 2010-2014 Ford Raptor Exterior Parts & Accessories Can't Be Beat
We also carry lots of 2010-2014 Ford Raptor exterior trim products for your more subtle upgrades. Side view mirror trim rings, headlight and taillight trim rings, Raptor emblems for some of the tiniest places on your truck are all great ways to add small upgrades that look big in detail. Even our carbon fiber 2010-2014 Ford Raptor exterior parts are hardly noticeable from a distance, but up close they add just enough boldness to tell someone that this isn't just your typical stock Raptor.
2010-2014 Ford Raptor exterior performance upgrades are also a great way to take your Raptor to the next level. Lift kits, shocks and painted brake calipers make for an awesome touch to the look and stance of your vehicle, not to mention the performance. Most people won't find themselves in need of adding to the performance of these already high performing off-road trucks, but if you're a serious off-roader, we can help you beef up your Raptor with the correct 2010-2014 exterior parts. Our parts can help you perform and protect at peak performance levels.
Whether your Raptor needs a makeover, some better performing parts or you're looking for the type of products that offer you protection from the outdoor and back road elements, Southern Car Parts is the perfect place to shop. Browse our inventory for the 2010-2014 Ford Raptor exterior accessories that fit your needs the best. We guarantee the highest quality products at the lowest prices.
Ford Raptor Exterior Parts and Accessories
Minimal Price: $ 9.95 9.95