Hellcat Engine Dress-Up
---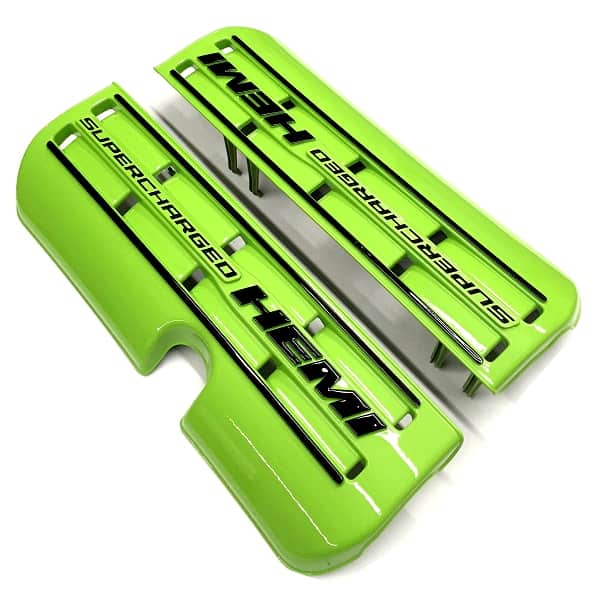 Dodge Challenger Hellcat Engine Bay Dress-Up and Custom Painted Parts
At Southern Car Parts, we ensure that we only buy from top brands that have a reputation in the market. We are truly committed to provide you with the best of service and a happy shopping experience. For us, the satisfaction of our customers is more important than profits. This is the reason why our products are always affordably priced. We only sell high-quality products that are manufactured by top manufacturers trusted for their quality. We offer free shipping on most of our products too!
Talking about the amazin Challenger Hellcat, next time you are at a car show and pop your hood, make sure you are showing off your Challenger Hellcat to its maximum potential. Southern Car Parts will help you with that. We have an extensive selection of custom painted engine covers and accessories. From custom painted engine parts, to polished stainless steel panels and even carbon fiber, we have it all.
To make a large dramatic change to your engine bay, you may want a beautiful custom-made Hood Liner. You won't believe what a difference it makes! Or if your goal is to simply add some color and style to your Hellcat, consider a custom painted engine component part like our fuel rail covers, air intake cover, or fuse box cover. Take a look under our hood and see what you might find to take your under hood modifiers to a whole new level. You're already only a click away from the perfect modifier for your car. We at Southern Car Parts are excited to help you find just what you need for your beast of a car! Don't wait and upgrade your car with an engine bay dress up or custom-made parts to add to its performance and beauty. The best part is that we offer a very smooth and comfortable shopping experience. You can browse through our category of engine-bay dress up here.
Minimal Price: $ 55.85 55.85