Hellcat Exhaust
---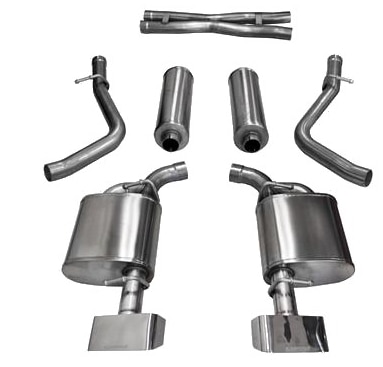 Dodge Challenger Hellcat Exhaust Systems
Borla ATAK, Corsa Extreme and Magnaflow Outlaw Hellcat Challenger Exhaust top our list
When it comes to sound of your Challenger Hellcat the exhaust system can really make a difference in horsepower and head turning at the local car show. We at Southern Car Parts carry all the top manufacturers like Borla, Flowmaster and Corsa. These systems can be bolted on without cutting.
You need to check out all the options and sound clips for an exhaust system before buying. Some are known to have drone and interior noise and some don't. Most of the systems are made of stainless steel so you will never have to worry about rusting. Most of the systems have various sound levels and tip options to choose from. Some of the best quality, best sounding and all around best systems made for your Challenger Hellcat come from Borla, the Borla ATAK is aggressive, loud and will get you and your Hellcat noticed. A very similar system is the Corsa Extreme, this is loud and aggressive as well.

The great thing about Southern Car Parts. We have a leg up on the competition in three areas when it comes to your Hellcat exhaust. Price, selection and knowledge. We have the lowest prices, we have a great selection, which most of the Hellcat aftermarket systems are in stock and we have extensive knowledge and can help you make your decision on which system is right for you.
When making that decision for the sound upgrade for your Hellcat Challenger make Southern Car Parts your final destination.
Minimal Price: $ 29.95 29.95