C1 Corvette Interior Parts
---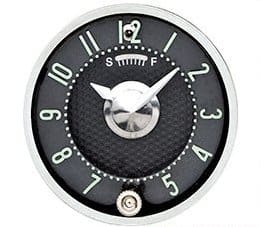 1953-1962 C1 Corvette Interior Parts
The first generation Chevrolet C1 Corvette is a stunning piece crafted in a beautiful body. A lot has been talked about its shape and design, but a car owner feels the car from the inside. So, the internal experience of the car becomes equally important. Investing in some good quality interior parts like an in-dash clock, door knob set, shifter boot, window regulator gear, etc. will enhance your car driving experience many folds.
At Southern Car Parts, we have everything that you will need to give your 1953-1962 C1 Corvette a makeover. Car owners today are generously spending on the styling and customization of their ride. Restoration is definitely a level up in the same direction. It is said that old is gold, and same is true in terms of cars as well. Earlier cars were made with a lot of passion and craft, and not just to earn from sales. 1953-1962 C1 Corvette has been the pride of Chevrolet, all thanks to its spellbinding design. At Southern Car Part, we offer you products that will enhance the external beauty of your Corvette with powerful interiors. Our prices are lowest in the market and you have the option of adding the product to the comparison list to analyze the best-suited one for your car. Not only this, you can also submit any question regarding the product you are interested in, and we will send you a reply as soon as possible.
We offer free shipping on most of our C1 Corvette products that are reasonably priced to suit all budget sizes. We only keep those products that are manufactured by top trusted brands. Our collection of aftermarket products is so widespread that there will never be a case when you will not find something that's in the market but not in our online store. So do not think twice and shop from SCP with confidence. Your Corvette deserves the best, and we will offer you just that. You can browse through the category of interior parts below.
C1 Corvette Interior Parts
Minimal Price: $ 3.99 3.99