Home

/

Nissan GTR Car Covers
Nissan GTR Car Covers
---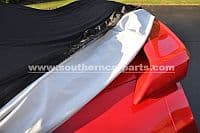 Nissan GTR Car Covers
So you have your new Nissan GT-R! Now you need something to protect it while stored in the garage or outside. At Southern Car Parts we offer both outdoor and indoor car covers that are simply "the best in breed" style covers. Although there is a huge variety of other car cover brands and materials we chose to only offer up the two the we personally recommend and would use for our cars. Although they are not the cheapest GT-R car covers, they are without a doubt the best money can buy.
Free Shipping

Covercraft Form Fit Indoor Car Cover for the 2009+ Nissan GT-R The Covercraft Form Fit indoor GT-R Car cover is the absolute best indoor car cover for your Nissan GTR you can buy. Made with a satin, stretchable exterior, the cover fits like a glove and looks awesome on the car. Underneath it has a white soft cotton material the babies your GT-R's finish. The Form Fit indoor cover is designed to flatter and protect your cars appearance even when it is covered and in the garage. Available in a wide variety of colors, the Form Fit Nissan GTR cover is custom made to fit your GTR perfectly, complete with sewn in mirror pockets. The CoverCraft Form Fit cover is chosen (because of its quality) by many OEM manufacturers as their official branded car cover and sells for $400+ dollars at dealerships. Now you can get the same custom fit cover direct from the source for way less than retail and ordered exactly to your specification. Do not be fooled by imitations or "universal car covers" (one size fits all make and model cars), there is only one custom fit Form Fit car cover for your Nissan GTR and Southern Car Parts is your source to get it! Please allow 2 weeks production and shipping time.
Minimal Price: $ 141.00 141
You have no items to compare.